Luis Suarez's daughter, Delfina Suarez, is famous for being the only daughter of the former Barcelona star. Here's everything we know about her.
Delfina Suarez is quite the famous face on social media and around the world, thanks to her father, Luis Suarez, who is referred to as one of the best strikers of his generation. 
Who Is Luis Suarez's Daughter Delfina?
Delfina Suares is the oldest and only daughter of Uruguayan football striker Luis Suarez and his wife, Sofia Balbi. She was born on August 5, 2010, in Barcelona, Spain, while her father just signed to be a striker for Liverpool football club. 
She has two younger brothers, Benjamin Suarez and Lautari Suarez, who were born in 2013 and 2018, respectively. Details about her education are unknown, but she is assumed to have attended a private school like kids her age with similar backgrounds.
Since birth, she has been seen several times in the bleachers, watching football games and cheering on her father as he plays. Many videos of the celebrity child enjoying the spotlight with her father on the pitch during his team's trophy celebrations are also available. 
This is not uncommon as many football players bring their families on the pitch after final matches to celebrate their trophy wins. Players like Lionel Messi and Sergio Ramos often celebrate their trophy wins with their children and wives. 
Delfina loves spending time with her family and friends on adventures, trips, and vacations. The celebrity kid also lives a luxurious life as her father is wealthy, thanks to his outstanding football skills and income. She loves football and basketball and reportedly plays both sports as her hobbies.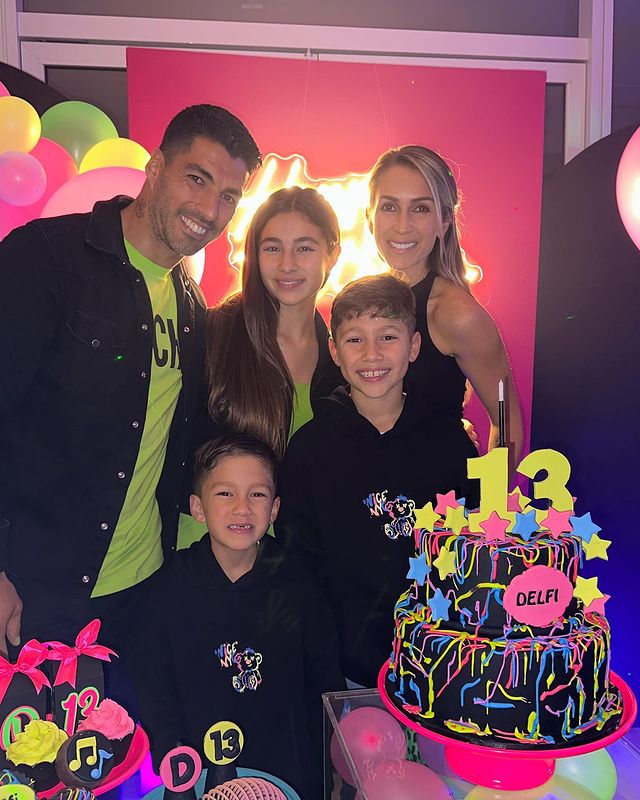 Delfina is currently 13 years old and a new teenager. She celebrates her birthday in grand style every year with big parties with many other celebrity children in attendance. Luis often dotes on Delfina as his only daughter and has mentioned her lovingly in many interviews. 
What Is the Origin of Luis Suarez's Daughter's Name?
Her father, Luis, named her "Delfina" after Liverpool's stadium, Anfield, but with a twist. He rearranged the letters in "Anfield" and coined the name "Delfina" due to his successful £22 million deal, which he had just signed with Liverpool.
This unique name has made Delfina stand out on many occasions. Luis tattooed her name on his wrist and kissed it every time he scored a goal. This celebration routine became popular and is recorded on the EA Sports FIFA video game as the "Kiss the Wrist" celebration. 
Luis Suarez's daughter should not be mistaken for a TikTok star with the same name. The social media star, who also goes by Delfina Suarez, was born in Mexico and has clarified that she is not related to Luis Suarez in any form. 
Karim Benzema and Luis Suarez's Daughter
The relationship between Karim Benzema and Luis Suarez's daughter is unknown. It is speculated that Benzema and Luis' daughter are close, but no evidence confirms that. Karim Benzema and Luis Suarez were both strikers in Spain who played in rival clubs. Benzema played for Real Madrid, while Luis played for Barcelona FC. 
While both fathers were rivals on the pitch, their families could have been friends off the pitch. Most football stars and their families often hang out together and sometimes go on vacations together.
It is most common among teammates, but sometimes, players in the same league develop friendships that extend to their children and wives. At this time, there is no known friendship or connection between Delfina and Karim Benzema's daughters. 
Delfina Suarez's Parents
Delfina's parents are Uruguayan football star Luis Suarez and social media personality Sofia Balbi. Luis is revered as one of the greatest strikers ever due to his exceptional pitch performances. He has played in some of the biggest clubs in the world, from Liverpool to Barcelona FC.
He is famously known for having the most amazing goals and "saving" matches at dying minutes with unexpected goals. This unique skill earned him the nickname El Pistolero ('The Gunman') for his clever finishing inside and outside the box. The footballer is a striker for Campeonato Brasileiro Série A club, Grêmio, and the Uruguay national team. 
Delfina's mother, Sofia, is a social media personality, entrepreneur, and sports wife. She was born in Uruguay, where she met Luis when she was just 13 years old. She moved to Spain following her marriage to the footballer. 
Sofia comes from a very wealthy family and reportedly has a net worth of $7 million. She owns several businesses, is active on social media as an influencer, and has over 2 million followers on Instagram under the handle @sofibalbi.
Both Sofia and Luis post their daughter frequently on their social media pages from time to time, and the celebrity kid is growing up beautifully.