Michael Oher's siblings are famous only because of their ties to the former Baltimore Ravens offensive tackle. The life they lived and the parts they played in Michael's life were slightly portrayed in the 2009 film "The Blind Side." 
At some point, they entered the foster system and, together with Michael, were moved around foster homes often. Michael's life changed after he met the Tuohy family, who took him in and gave him roots that helped him grow.
Who Are Michael Oher's Siblings? 
Michael Oher has 14 siblings, including the two step-siblings he later met. Twelve of the rest are his biological brothers and sisters, all born to their mother, Denise, and a man named Michael Jerome Williams. 
The man had decided early on that he would not be involved in Michael Oher or his siblings' lives, so all the responsibility of raising them fell to Denise. It was a large family, and even though they were all born to the same woman, Michael did not grow up knowing all of his siblings. 
He has admitted that his younger siblings were unknown to him as he did not grow up with them. The names of Michael Oher's siblings whom he officially recognizes are: 
Denise Oher
Marcus Oher
Andre Oher
John Oher
Carlos Oher
Rico Oher
Tara Oher
Deljuan Oher
After he took up with the Tuohys, Sean Tuohy Jr. and Collins Tuohy-Smith became his adoptive siblings. They got along well, but their relationship took years to mature into the beautiful thing it is now. 
The Relationship Between Michael Oher's Siblings and Him
Michael's childhood was not an easy one. The environment he lived in as a child was an unforgiving one. It left him without the luxury of a formal education, making it challenging for him to read.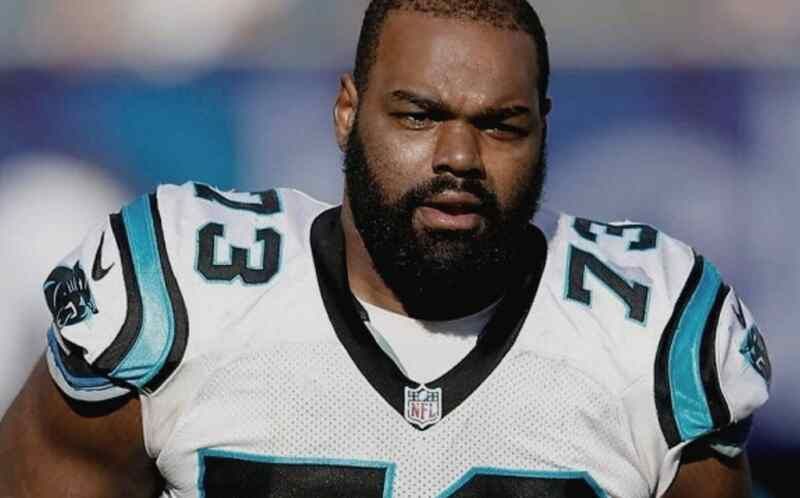 Michael's siblings were the same. In his memoir, "I Beat the Odds," the NFL star opened up about how hard life was for him and his siblings. 
In one part of the book, the decorated athlete stated that his older brother Marcus, ten years older than him, had played father to them. He took responsibility for their safety and made decisions to help them survive. 
Michael recalled in the book that when he was two, he once walked down the highway with Marcus, Andre, Deljuan, Rico, and Carlos as they tried to seek shelter after getting locked out of their home.
Marcus ensured Michael and his other siblings had a safe place to lay their heads at night. Things got better for Michael after he met the Tuohys, but he maintained a close relationship with his siblings. According to him, he pays them occasional visits whenever he is in Memphis. 
Michael Oher's Mother Was an Addict
Michael Oher's mother was portrayed as an addict who could not care for her kids in the film "The Blind Side." The movie has been criticized for how relatively easy it makes Michael's trials out to be, but the depiction of his mother was not far from the truth. 
Denise was a drug addict who struggled to fulfill her duties as a mother. She was broke and always between jobs because of her drug dependence. Even when she landed a job, she couldn't hold it, so Michael and his siblings usually had to fend for themselves. 
Eventually, Denise's older kids turned to crime, which gave them thrills. They would break into people's cars to drive them for fun, then leave them for the police to find. Later on, Denise lost custody of them, and since their grandma refused to take complete control, they entered the system.
It was shortly after that Michael met the Tuohys. In 2017, Denise reportedly got help for her condition, but her relationship with Michael remains slightly strained. 
Michael Remains Close to His Adoptive Family
The Tuohy family loved Michael, and they nurtured his talents too. When he first joined their family, his half-sister Collins Tuohy helped him adjust to his new life. 
Michael was even her escort when she was her high school's homecoming queen. Even after they got older, Collins continued to support him and his career. The pair maintain a close bond to this day. 
She married her longtime boyfriend, Canon Smith, in 2016, and Michael was one of the attendees. The talented athlete is also close to Collins's brother Sean. 
Their bond grew because Sean would see him 2-3 times a week as they lived close. Michael once said about Sean: "We've always been close. I always looked at him as a little brother; we played games together. He's always been a sharp kid and turned into a great guy." 
The good vibes also still exist between Michael and his adoptive parents. They still support him, and he is not shy to talk about how grateful he is to have met them. Because of them, he became a football star like Terry Crews and will likely never forget it.