Daniel Pitout is a South African-born, Canadian-based country music singer, songwriter, actor, and activist. He gained prominence as the co-founder and former drummer of the Vancouver punk band Nü Sensae and singer of the Eating Out band. His involvement in the music industry extends far beyond his alleged persona as Orville Peck, as he has been in the punk rock scene for over a decade.
In addition, his passion for music and playing instruments from a young age made him hone his skills. Consequently, he is now a globally recognized multiple award-winning artist with several hit songs. While Peck has never revealed his face, the mysterious musician known for his distinctive fringed mask and cowboy attire has intrigued fans for years. 
However, the recent online buzz has centered around the revelation that the man behind the mask is Daniel Pitout. As such, the various rumors have piqued fans' interest in the multi-talented star. Many are curious about Pitout's upbringing, story, and whether he is the man behind the Orville Peck mask. Here's everything we know.
Daniel Pitout's Biography
Daniel Pitout was born on January 6, 1988, and is currently 35 years old. The famous country music artist was born in Johannesburg, South Africa, and spent most of his childhood in the North of Sophiatown until he was 15. Consequently, he is a South African national of African descent.
Although details about his parents elude the media, Pitout revealed that his father was a sound engineer. He also added that his grandfather was a horseback sheriff in KwaZulu-Natal, which sparked his interest in cowboys.
Although reports suggest Pitout grew up alongside his brother, his identity remains unknown. In addition, details regarding his elementary and high school educational achievements elude the media.
Nevertheless, after graduating high school, the country music star studied acting at the London Academy of Music and Dramatic Arts. However, he relocated to Canada, where he currently resides, in 2002.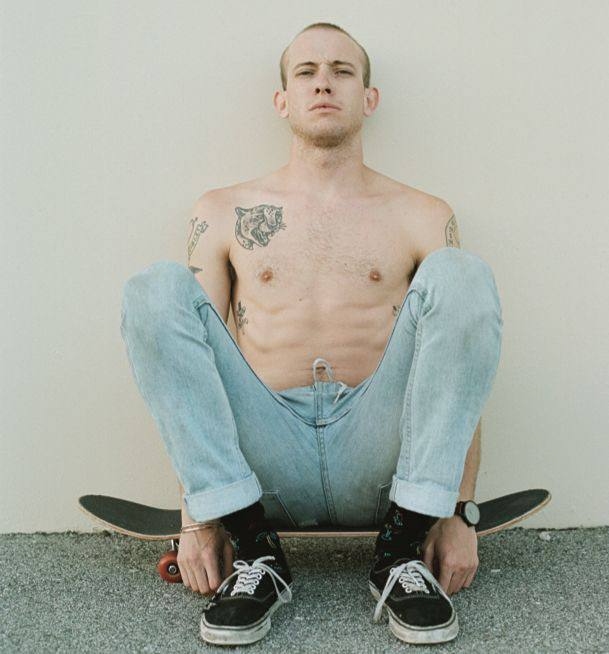 When Did Daniel Pitout Start His Career?
Daniel Pitout had a passion for music from when he was young. At a tender age, the country music star learned to play musical instruments by himself using his father's acoustic guitar and an old Casio keyboard.
Before venturing into music professionally, Pitout was a voice-over artist for cartoons and other media productions. In addition, he trained in ballet for 12 years and performed in musical theater. However, Pitout began his professional music career in 2008 before the mask and Orville Peck persona.
He reportedly founded the Nü Sense band alongside Andrea Lukic, his high school friend. While Andrea was the vocalist, Pitout was the drummer, and Brody McKnight, the guitarist, later joined them. The band released several hit singles before taking a break in 2014. 
Afterward, Pitout formed another band, Eating Out, and was the group's frontman. With "Eating Out," Daniel Pitout released the album, "Burn," in 2013. Alongside it came a stellar, 90s-reminiscent music video and a standout track, "That's My Man." 
However, Pitout later became a solo singer and adopted the masked identity of Orville Peck. While Pitout first achieved nominal success as a drummer for punk-grunge trio Nü Sense, he experienced new acclaim in 2017 when he morphed into the fringe-masked, indie country crooner Orville Peck.
Aside from his successful music career, Daniel Pitout is also an activist. The music star founded AIDS Day Music Project in 2012, a non-profit organization that creates awareness through music and art.
Does Orville Peck Always Cover His Face?
Yes, he does. Orville Peck always performs with his face hidden behind a cowboy mask with fringes. The famous singer has released two albums, "Pony" and "Show Pony." Both have been well-received, earning praise from music critics and love from fans. However, Peck isn't just known for his music. His unique style has also caught people's attention. 
Are Daniel Pitout and Orville Peck the Same Person?
Yes, they are. While Peck's identity remains mysterious, many conclude that the man behind the fringe mask is Daniel Pitout. There have also been several similarities between the famous singer and Peck, giving credence to the claims. Some of the clues include Orville Peck and Daniel Pitout's similar tattoos. In addition, both were born in Johannesburg, South Africa. 
Aside from this, Pitout also hyped Orville Peck on his Facebook and Twitter, as did his former band, Nü Sense. Furthermore, Pitout received credits on Peck's AllMusic page. Another thing is that Peck once said he was in a West End Play during his stay in London, and it also happened that Pitout served as a replacement in the West End Play "Peter Pan Goes Wrong." 
Lastly, ASCAP listed the famous country singer as the songwriter for Peck's songs "Old River" and "Roses Are Falling." Consequently, fans and the media alike concluded that Daniel Pitout, unmasked, is Orville Peck's natural face. However, the Canadian-based singer has neither confirmed nor denied the claims.
Who Is Daniel Pitout's Girlfriend?
Daniel Pitout does not have a girlfriend. The South African-born songwriter disclosed his sexuality as gay. However, he hasn't revealed any details regarding the identity of his partner.
Hence, he is currently single. However, fans once speculated Pitout was dating producer Diplo after the producer accompanied him to the Grammy Awards as his date. Since the alleged couple have not addressed the speculations, they remain rumors.
Pitout's captivating music has captured the hearts of many, and he continues to create music that resonates with his audience. Like Daniel Pitout, Actor Matt Bomer's husband, Simon Halls, has also captured the hearts of many.