Charlie Sheen and his brother have captured hearts in the industry for decades, yet only a few knew of their relationship thanks to their different last names.
80s heartthrob Charlie Sheen pulled off most of his career escapades alongside fellow teen-throb Emilio Estevez. With such movies as "Loaded Weapon," "The Outsiders," and "Platoon," the duo became two of the most idolized young actors in Hollywood.
However, what many failed to realize at the time was that Charlie Sheen and Emilio Estevez were related, and were in fact brothers. Both were born to famed actors Martin Sheen and wife Janet Estevez.
While Charlie went on to gain unmatched fame in the world of showbiz, with credits in "Anger Management" and "Two and a Half Men," Estevez seemed to fade out of the spotlight. At least for a while.
More recently, he made the headlines with reports of his return to the screens in the movie, "The Mighty Ducks 2." However, that too went south when the actor failed to take the mandatory COVID-19 vaccines mandated on Disney's major crew members.
Notwithstanding, he has kept busy with off-the-screen ventures while striving to help his brother Charlie Sheen overcome his addictions by being the exemplary elder brother.
This goes to prove just how deep the love between the Estevez brothers runs despite taking different paths. Even better, they never try to deny their relationship or affection for each other. So why exactly do they use different last names?
Why Do Charlie Sheen And His Brother Have Different Surnames?
Charlie has stuck to Sheen as a last name throughout his career. But long before the world knew who he was, he was simply the son of Martin Sheen, from whom he adopted the English surname.
On his part, Martin Sheen, born Ramon Antonio Gerardo Estevez to immigrant parents, was forced to change his name in his twenties. He did so at the start of his career having realized casting directors prejudiced against him in New York due to his Hispanic surname.
He invented the moniker by merging the names of two people he admired: CBS casting director Robert Dale Martin and Catholic evangelist Fulton J Sheen. Notwithstanding, he remained Ramon Estevez on his birth certificate.
Hence, when it came time to build a family, his four kids and his wife all received Estevez as their last names. Years later, his sons ventured into acting as well and were faced with the same choice he had years back.
Charlie chose the easy way out, opting for his dad's stage name, Sheen to avoid showbiz prejudice. Meanwhile, Emilio, determined to break away from his dad's shadow, retained his Hispanic name.
Why Emilio Stuck With His Original Name
Emilio's decision to push forward in the industry with his Hispanic name did not play out easily. On one hand, he lost opportunities to star in several roles due to prejudice from casting directors. Additionally, his agents kept pressuring him to adopt an English name, as that would make things a lot easier. And since he looked more Irish than Latino, much like his dad and brother, it would pan out well.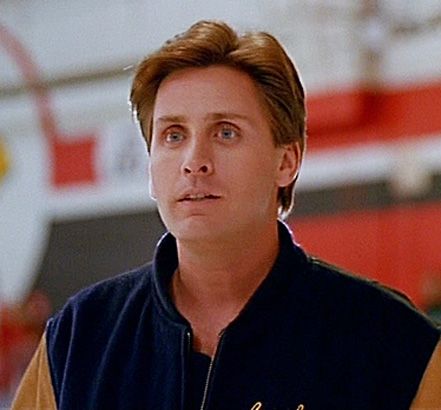 Furthermore, many believed since the "Sheen" family name was already a brand, it would offer him more opportunities. But the actor did not let their opinions sway him. He once reflected:
"I chose to stay with my family name because first of all, Emilio Sheen looks stupid. Right? And it's just not who I am."
Martin Sheen, who lived through Hollywood throughout his career using only his stage name strongly backed his son. He advised Emilio to maintain his heritage lest he lived in regret for the rest of his life. The "St. Elmo's fire" star divulged:
"My father said, 'Don't make the same mistake I made. You will regret it for the rest of your life.' Because he does. It was probably the best advice I ever got from my father.
Emilio Estevez followed that advice. He never regretted the choice, as the Latino community proved supportive over the years, appraising his willingness to identify with his Hispanic roots.
Charlie Sheen Embraced his Irish Roots
Unlike his older brother, Charlie Sheen, born Carlos Estevez, never favored his Hispanic name. From his earliest school years, he tweaked his name to Charlie, making everyone accustomed to calling him that while growing up.
Finally, he decided to embrace acting like his family members before him. Having never identified with his Latino roots, it was a no-brainer to adopt Sheen, like his father, hence the name, Charlie Sheen. He has loved his Anglicized moniker ever since, once saying:
"I think there's a better balance with Charlie Sheen, the way it has a nicer ring to it… I figured that with how pop has established sheen in this business, I should probably carry it on after he has retired."
Despite his preference for his anglicized name, Charlie identified with his Latino name at some point in his career. In the 2013 film, "Machete Kills," the icon credited himself as Carlos Estevez, owing to the predominantly Latino actors making up the cast ensemble.
Who Are The Other Estevez Siblings?
Aside from Charlie and his brother Emilio, Martin Sheen and his wife Janet Estevez welcomed two more kids. Interestingly, all four siblings gained fame in their own rights over the years, immortalizing both the Estevez surname and the anglicized name, Sheen.
Like Emilio, the other two, including brother Ramon and sister Renee, stuck with their dad's original surname. Despite the struggles, they became famous nonetheless.
Ramon Estevez runs the company Estevez Sheen productions, and has credits in movies like "Cadence," and "That Was Then… This Is Now." He also appeared in various music videos over the years.
Meanwhile, their only sister Reneé Estevez grew up to become an actress and has been active since the mid-eighties. She appeared in projects like "Babies Having Babies," "Shattered Spirits," and "Addams Family Reunion," among others.
Having grown up in the spotlight and followed in the footsteps of their famous parents, the Estevez siblings have become a force to reckon with in the industry. Even at that, they remained committed to their family values and love for each other.