Kenny Rogers passed away in 2020, leaving behind a family comprising a wife and several children, all grown-up and ready to carry on his legacy.
The world lost a legend on March 20, 2022, when singer Kenny Rogers passed away at 81, in Sandy Springs, Georgia.
Sadly, loved ones and well-wishers could only grieve his loss, unable to give him the grand farewell rites he deserved after contributing immensely to the growth of the entertainment industry.
This was due to the coronavirus pandemic plaguing the world at the time. Thankfully, his family was by his side to see him through his transition into the afterlife under the care of hospice, making his final moments memorable.
Despite putting in their best to honor the singer following his passing, they reunited years later to give him a proper memorial, graced by a small group of friends and family who are all too glad to uphold his legacy.
While Rogers' passing has indeed created a vacuum in the world of arts, knowing he left behind talented off-springs to continue his great works offers a level of comfort. That said, how many children did Kenny Rogers have and who are they?
How Many Children Did Kenny Rogers Have?
Kenny Rogers had five children spread across his five marriages. He welcomed his first child, Carole Rogers, at nineteen with Janice Gordon.
While he willingly took responsibility for the child, Gordon's parents frowned upon the pregnancy. The two wed in 1958 and divorced two years later, with an agreement that Kenny stayed away from their daughter.
He honored the agreement, making him estranged from his only daughter for most of his life. Notwithstanding, the actor welcomed four more kids, including Kenny Rogers Jr., Christopher Cody Rogers, Justin Charles Rogers, and Jordan Edward Rogers.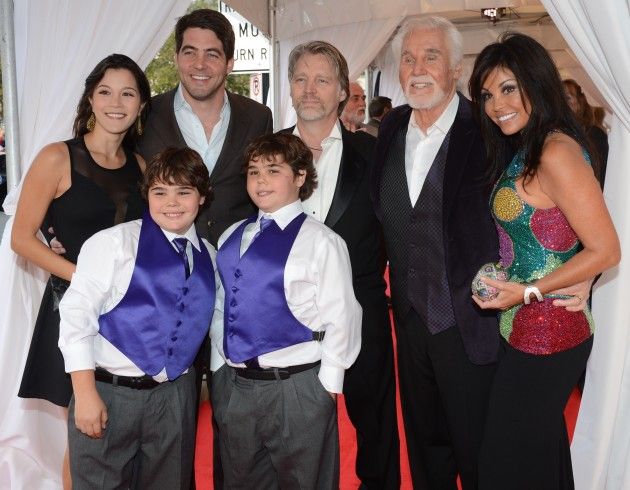 Carole Rogers
Carole Rogers is Kenny Rogers' first child and only daughter, who grew up in her mom's custody following an agreement to keep the child from her dad. The singer once said:
"That was my promise to them, that I would be her father, but he (Gordon's step-dad) would be her dad. And I don't want to disrupt that. He stepped in at a time that was really awkward for all of us."
Carole grew up recognizing Gordon's second husband as her only dad, never able to forge a relationship with her biological father.
Kenny Rogers Jr.
Six years after welcoming his first child, Rogers became a dad again, welcoming his first son Kenny Rogers Jr. with his third wife Margo Anderson. Their marriage lasted twelve years, during which time they raised their son away from the spotlight.
In his adulthood, Kenny Jr. managed to find his way into the entertainment world like his dad, albeit behind the cameras. He worked as a composer on soundtracks for movies like "Get Him To The Greek," among others.
Additionally, he has made appearances in a handful of movies and television shows and dabbled into music. He has an album titled "Yes – No / Maybe" produced under Cypress Records.
Christopher Cody Rogers
After divorcing Anderson, Kenny moved on to his next wife Marianne Gordon. The pair welcomed their son, Christopher Cody Rogers in 1982. They enjoyed marital bliss for almost two decades before going their separate ways in 1993.
Throughout their years together, Kenny and his third son developed a strong bond, with the former posting his son regularly on social media. Gordon opened up about this bond, saying her son made a point of seeing the legend as often as possible during his health declined.
Kenny Rogers Welcomed Twin Children Justin And Jordan
In 2004, Kenny Rogers became a father again when he welcomed children Justin Charles Rogers and Edward Rogers. The twin boys came from his marriage to Wanda Miller. The couple tied the knot in 1997 and enjoyed a lasting union until the singer's death in 2020.
Throughout their years together, Kenny shared a loving relationship with his youngest kids. They stepped out as a family for various public outings and formal events. Additionally, the boys were constantly featured on their dad's social media page.
The twosome turned fifteen in July 2019, giving them a chance to spend their last birthday with their dad. In celebration, the music legend took to Instagram to wish the duo a happy birthday.
Kenny Rogers Married Five Times
Like his fatherhood escapades, the music legend also took numerous chances in his romantic life, culminating in five different marriages. Kenny Rogers married his first wife Janice Gordon in 1958 when he was only nineteen. The young couple, who shared a daughter, eventually divorced in 1960.
Following his divorce from Gordon, Kenny Rogers tied the knot with second wife Jean Rogers. Like his first, the marriage was short-lived, lasting from 1960 to 1963.
He went on to marry third wife Margo Anderson in 1964. Their marriage, which lasted twelve years, yielded a son, Kenny Rogers.
His fourth wife was Marianne Gordan, to who he was married from 1977 to 1993. The former couple welcomed Chris before their split. Four years later, the icon exchanged vows again, with his fifth wife Wanda Miller, 22 years his junior.
The pair welcomed twin sons Justin and Jordan, who were weeks away from their 16th birthday before their dad's passing.
To date, Kenny Rogers' family is proud of his legacy and continues to uphold it posthumously. Even in the music world, Kenny remains an idol, who continues to make waves long after his demise, garnering posthumous recognition and honors.