NBA great Magic Johnson has one of the most adored marriages in the showbiz world. But years before it became picture-perfect, he and his wife Cookie Johnson dealt with a rocky period that threatened their union.
Earvin "Magic" Johnson, who popularly goes by Magic, made a name for himself in the NBA, starting with his 1979 draft to the Los Angeles Lakers. Magic wielded a 13-year career that saw him become an NBA great.
Is Magic Johnson married? Magic has been married to businesswoman Cookie Johnson for over three decades, and theirs is an enduring union. The couple weathered a few storms, most notably Magic's HIV diagnosis back in the 90s. Here's a look through their marriage.
When Magic and Cookie Met
The pair were college students in Michigan when they met in 1977. According to Cookie, in her interview with Mocha Man Style, she and Magic were freshmen when they met. She recalled:
"I went to a club. One of the only clubs on the campus. [Magic] was standing there by the doorway when I walked in with a friend of mine."
Cookie explained that Magic did not ask her for a dance, but after the lights came on, he requested her number. The public figure recalled being reluctant to give him her contact, but Magic insisted and said he would call her.
True to his words, Magic dialed up after the session's break, and they struck it off from there. Cookie and Magic had ups and downs throughout their dating years, but the most impactful struggle came after their marriage.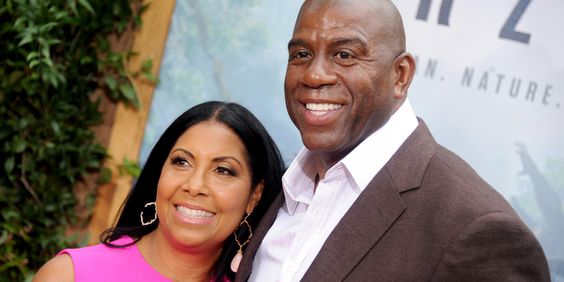 Cookie and Magic Johnson Got Married
By the 1990s, Magic was an established NBA star, and in September 1991, he and Cookie took their love life to the next level. Cookie was the classic bride in a flowing wedding dress and an unforgettable tiara.
However, a few months after their lavish wedding ceremony, Magic dropped a bombshell on his new wife's lap. Last November, the famous couple opened up about that trying period in their union in a joint interview with Gayle King.
Magic was diagnosed with HIV, and it was only the beginning of his struggles. He recalled driving home and dreading how to break the news to his wife. The Lakers champion shared that it was the most challenging thing he'd ever done.
Knowing that the higher probability of contracting HIV came from sexual contact did not help matters, but Cookie was willing to walk through the storms with her husband. In the same year, Magic announced his HIV status publicly and also retired from the NBA. All the while, Cookie stood firm as his backbone.
How The Couple Managed The Hard Times
It was not an easy road to take for Cookie Johnson. She told GMA's Robin Robert in 2016 that the devastating news brought her down to her knees in tears. Magic also fell to his knees, crying with his wife.
In her 2016 memoir, "Believing In Magic," Cookie wrote that she did not have time to think about the situation or be angry at the man she loved. She recalled how Magic resigned to fate and asked her to leave if that's what she wanted.
The fashion designer knew this was the moment to prove her love for him. Cookie recalled telling her husband she loved him and would stay through thick and thin.
She also revealed how she was heartbroken to hear her spouse calling each of the women he has been involved with to confirm how he contracted the disease.
Does Magic Johnson Have Kids?
Prior to his marriage to Cookie, the former Lakers boss welcomed a son, Andre, in 1981. This had been with his ex-lover Melissa Mitchell. With Cookie, the sports icon welcomed another son, EJ Johnson, who has since become one of the most famous reality stars.
EJ's birth was also another scary moment in their marriage. Cookie found out around the time Magic revealed his HIV status that she was pregnant. She became so apprehensive, hoping the child would not contract the disease.
It took ten days for her test result to be released, and after that, doctors made it clear that the child could not contract HIV once the mother was negative. EJ was born in 1992, and in 1995, Cookie and Magic adopted a three-year-old named Elisa.
Where Is The Couple Today?
Years passed, and Magic Johnson stood firm while making sure to stay healthy. He and Cookie became HIV awareness advocates. They created the Magic Johnson Foundation in 1991, creating awareness about the ailment.
Through the years, Cookie and Magic stayed true to each other, and for every anniversary, the pair often reminded each other of their vows. During their 25th anniversary, Magic went all out gathering some of their celebrity pals at Venice for the celebration.
For their 28th anniversary, Magic and Cookie took to Instagram sharing several throwback photos and gushing over each other. They later enjoyed a lavish dinner at Tao restaurant in Los Angeles.
During their 30th anniversary in 2021, Magic Johnson was once again up to his romantic wiles. The Hall of Famer rented out the Wilshire Hotel ballroom for him and Cookie alone, and they also enjoyed a private dinner with a live performance for their favorite band, Frankie Beverly & Maze.