Angie Harmon and Sasha Alexander won the hearts of viewers as onscreen friends Jane Rizzoli and Maura Isles, forging a bond many hope still exists years after their stints on "Rizzoli & Isles."
The crime drama "Rizzoli & Isles" first graced the TV screens in 2010. The TNT series followed the lives of two Boston cops facing their personal struggles and family drama while navigating the world of crime.
Their decision to join forces to fight crime earlier in the series made the two characters forge a friendship that would last throughout the series.
Their dynamic chemistry, rendered impeccably by Angie Harmon and Sasha Alexander, kept viewers glued to the screens for six seasons. Many hoped the friendship between the characters would morph into something deeper.
While that didn't happen, the role players may have found something special in real life — a bigger-than-life friendship.
Years after their stint on the show, are Angie Harmon and Sasha Alexander still friends? Here is a glimpse into the lives of both women and the fate of their epic relationship now.
Are Angie Harmon And Sasha Alexander Still Friends?
While the Rizzoli and Isles role players have not exactly found themselves splashed across the cover of major magazines celebrating their BFF status, these women have experienced no public fallout either.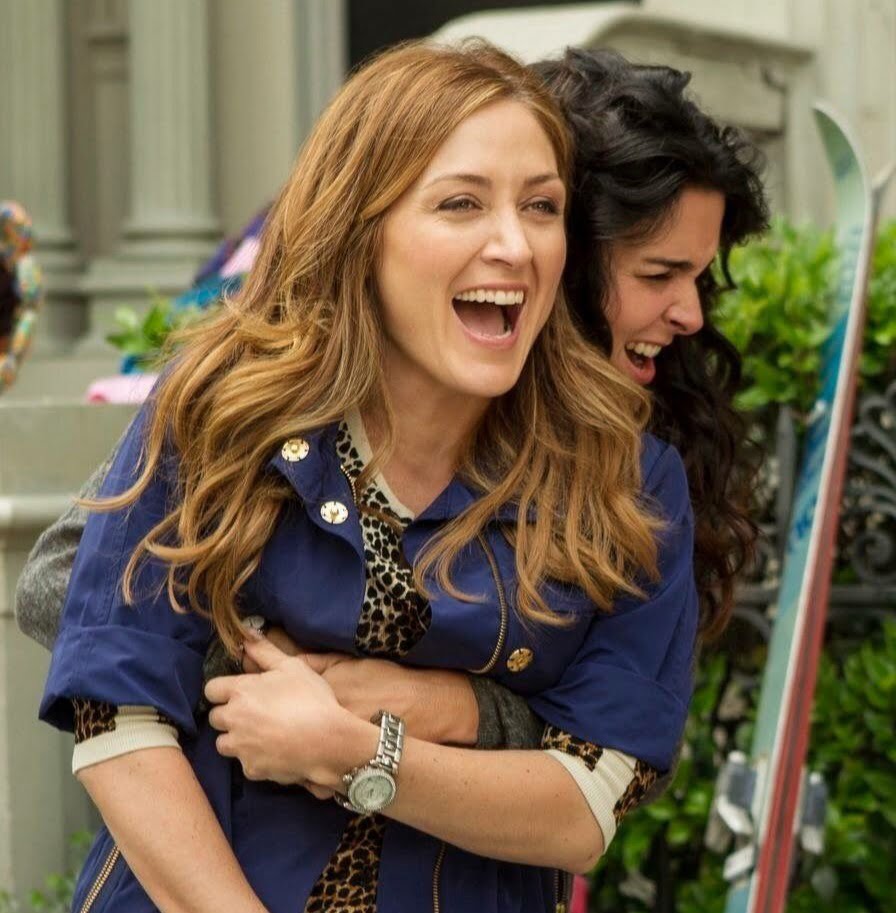 Hence, one could safely say their friendship is as solid as ever. And it seems Harmon and Alexander have no intention of ruining what they share, having previously hinted that their bond would last a lifetime.
Fans and colleagues alike have attested to this friendship, with the duo spending their time offscreen bonding on set and attending red carpets together.
They also complete each other's sentences and exchange hilarious jabs and banters as seen in their joint interviews and press tours. That's certainly something only great friends could pull off, which better proves Angie Harmon and Sasha Alexander are still friends in real life.
A Look Into Harmon And Alexander's Friendship
While their bond is still unbreakable, Angie Harmon and Sasha Alexander weren't always friends. In fact, they only became acquainted after meeting on the set of "Rizzoli & Isles."
Over time, their connection and friendship grew alongside those of their onscreen characters. Like Detective Rizzoli and Maura Isles, Harmon and Alexander's working relationship blossomed into a full-fledged friendship.
The pair have been open about their friendly beginnings. Harmon admitted in a 2012 interview that her connection with her girl pal came effortlessly. Going further, she stated their friendship just "clicked" the moment they read together.
They Complement Each Other
Notably, the off-screen friends contribute to each other's growth in more ways than one. Alexander once reflected on their time filming "Rizzoli & Isles," and how Harmon's presence made the experience less strenuous.
From sharing fashion tips with her BFF to rehearsing together, the two had the best time on set. This availed them the chance to embrace their varying personalities on and off the screen.
Their ability to complement each other further strengthened their bond. In real life, both women are direct contrasts to their onscreen persona, especially in terms of their fashion and style.
Unlike the tomboyish Jane Rizzoli, Harmon, an infamous fashion model, would rather look glammed up. Meanwhile, Alexander who played the fashion-forward Maura favors Rizzoli's comfortable oitfits.
Notwithstanding their desires for each other's onscreen roles, no bad blood formed between the women throughout the show's run. Instead, Sasha Alexander and Angie Harmon remained best of friends.
Why Their Friendship Appealed To Fans
Harmon and Alexander's offscreen friendship appealed to fans as much as their offscreen one. They attributed fans' connection to that friendship to the electric chemistry between the two women on-screen, which did not seem forced.
Speaking in an interview, the "Shameless" star noted that people rarely saw two female leads who get along well and support each other.
Hence, when they got to witness that between Jane and Maura, viewers easily connected with that relationship. Having witnessed the laying of their friendship foundation, many hoped the duo would eventually become romantically involved.
That long-anticipated ending never was. Instead, the duo headed separate ways in a bid to pursue new adventures in the show's grand finale.
While Jane sailed off to Quantico to take a job as an instructor at the FBI Academy, Maura finally embraced her writing dreams. However, before their final separation, they decided to spend their final weeks together in Paris, honoring their friendship.
Where Are They Now?
Thankfully, millions of fans devoted to "Rizzoli & Isles," and the bond between the women could keep counting on Alexander and Harmon's friendship long after the show ended.
But just like their onscreen alter egos, Sasha Alexander and Angie Harmon took different paths, while remaining friends.
Alexander has kept busy with her career, starring in over eleven movies in the last six years. She keeps up with her career pursuits while acing her game as a mother of two, and director Edoardo Ponti's wife.
Meanwhile, Angie Harmon has been taking it slow since the TNT series went off the air in 2016. Aside from lending her voice on "Voltron: Legendary Defender," and appearing on "Match Game," she has steered clear of acting.
Notwithstanding, the star, who grew up in the spotlight as the daughter of infamous model Lawrence Paul Harmon, has continued mirroring her fashion roots.
In 2020, she teamed up with home décor company LeighDeux to launch a summer collection that featured her skull designs.
She also clinched a multipicture development deal with Lifetime in 2021 to executive-produce, direct and star for the network. Harmon is listed as the narrator of Lifetime's crime drama series, "Cell Secrets."
Despite taking different paths, these actresses have undoubtedly reached impressive heights in their careers. More impressive is that Angie Harmin and Sasha Alexander achieved these feats without compromising their bond as friends, or their relationship with the other "Rizzoli & Isles" cast members.