Jamira Haines, the multi-talented girlfriend of 50 Cent, has been making headlines thanks to her blossoming romance with the world-renowned rapper.
50 Cent's girlfriend Jamira Haines found herself in the middle of the twelve-year long beef between the artist and fellow rapper The Game, with the latter accusing her of venturing into his DMs to make a disturbing request. He also shared a series of screenshots to back the claims.
Haines was quick to address the post, dismissing it as a message from 2015, long before her romance with 50 Cent commenced. She however made no comment addressing the alleged content of the DM.
While this has put the brewing scandal to rest, Haines certainly attracted some publicity to herself, which isn't exactly the first since her relationship with the rapper kicked off in 2019.
In case you're yet to catch up on the gist, Fiddy is indeed in a relationship with a hottie, who is more than twenty years his junior. Keep reading to discover more about the rapper's latest flame aside from her supposed former dreams of becoming The Game's "Video Girl."
Who Is This Mysterious Girlfriend Of 50 Cent?
50 Cent's girlfriend Jamira Haines is an Instagram influencer, fitness trainer and model better known by the nickname Cuban Link. The multi-talented star is also an entrepreneur and seems to have her heart set on becoming a lawyer.
Haines is reportedly 25, making her about 21 years younger than her beau. Yet, the two seem to enjoy the perfect romance despite their bogus age gap and more recently, The Game's disturbing allegations of Haines sending him her phone number and a topless photo of herself.
50 Cent Girlfriend Jamira Haines' Career
Despite occupying herself with classes to fulfil her dreams of becoming a corporate lawyer, Jamira "Cuban Link" Haines keeps herself busy with her multifaceted career.
She is an entrepreneur, who owns the fitness brand Cuban Fit and sells items from the collection on social media. This venture is somewhat profitable for the model, who boasts of over 1.7 million Instagram followers and 6400 YouTube subscribers.
Meanwhile, she keeps busy with her law pursuits, studying law at Rutgers University. Upon graduation, she hopes to further her education, take her LSATs, enroll in law school and study corporate law.
Additionally, the 25-year-old works as a fitness instructor, training several private clients and nursing dreams of someday opening her gym. Haines also hopes to grow each of these ventures into a vast business empire, and someday branch into television.
Jamira Haines' Ethnicity
Going by the nickname Cuban Link has misled many into thinking 50 Cent is dating a Cuban girlfriend. However, that is hardly the case.
On the contrary, Haines has Puerto Rican and African origin and is a native of New Jersey. In one of her social media posts, the entrepreneur revealed to fans that her dad was black, while her mom hailed from Puerto Rico.
Haines' Relationship With 50 Cent
50 Cent and his Girlfriend Jamira Haines kicked off their relationship in 2019. The exact circumstances surrounding their union remain unknown to the public as the rapper tends to keep bits of his relationship private.
However, the duo has addressed their first meeting publicly, during an Instagram Live broadcast. The rapper recalled setting out to meet her at an address she disclosed to him, without realizing it was a restaurant until he arrived. He divulged:
"The first time I went to meet her, she gave me an address and it was the restaurant."
In her defence, Haines pointed out there was no way she would have let him visit her at home on a first date without confirming his identity.
The world became aware of their relationship when they made their first joint public appearance at the premiere of "Power," in 2019. They have since remained inseparable, flaunting their romance on social media with envy-inducing photos and videos.
How 50 Cent And His Girlfriend Have Sustained Their Relationship
A glimpse through their social media page proves just how much 50 Cent and his girlfriend love each other. Even after three years together, the couple's love seems to only grow stronger. This has made them the cynosure of all eyes, as many wonder how they make it work.
Luckily, the lovebirds never shy away from sharing their unconventional relationship secrets. The rapper, 46, once disclosed in an interview that he and Haines adopted a collage-making technique to make their relationship better. He divulged:
"For 30 days, I told her, 'Send me a picture of something you want.' Then after 30 days, I did the same. At the end of it, we put the two vision boards together and talked about the things that don't match up."
The strategy revealed where their visions aligned and the things they needed to work on, ultimately sparking communication. Their open conversations helped them deal with certain issues that would have returned to haunt them in the future.
50 Cent's Former Girlfriends
Before meeting Haines, 50 Cent dated a handful of women, including the famous and the not-so-famous. His dating history includes Tattedup Holly whom he dated from 2013 to 2015 and singer Ciara, between 2007 and 2010.
Sometime in 2012, 50 Cent had a girlfriend called Daphne Joy, who eventually bore him a son, Sire Jackson in September 2012.
Additionally, he had flings with Chelsea Handler, Joy Bryant, Vivica A. Fox, and Meagan Goode. Before these romantic involvements, the rapper had an affair with a woman called Shaniqua.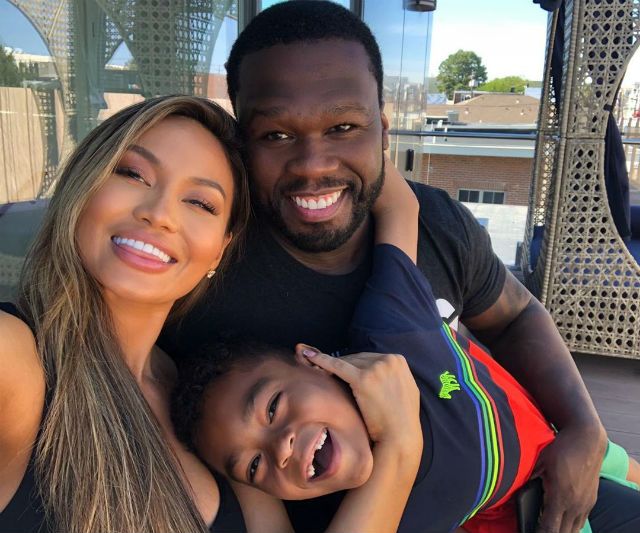 Their romance, which ended for good in 2008 yielded the rapper's first son, Marquise Jackson. The feud between the exes subsequently rubbed off on their son, who remains estranged from 50 Cent.
Aside from his romantic escapades with women, the father of two has also built a reputation for trolling other celebrities.
The king of trolls has sustained long-term feuds with the likes of Wendy Williams, Rick Ross, Madonna, Will Smith and Ashanti. This has earned him backlash from fans and internet trolls who believe he filly found his match in The Game. If only Haines could be left out of it!