There were so many rumors about Shohei Ohtani's wife that people became more curious as he kept quiet. So, what is the truth?
Shohei Ohtani was born on July 5, 1994, to Kayoku and Toru Ohtani in Ōshū, Japan. He gained popularity as a baseball pitcher in his early high school days, but it wasn't until 2013 that he debuted with Hokkaidō Nippon-Ham Fighters and gained international recognition.
In 2018, at 23, Shohei, popularly known as the two-way sensation or showtime, made his Major League Baseball (MLB) debut with the Los Angeles Angels. However, Shohei encountered several challenges, particularly injuries, at the start of his career. Despite this setback, his fortune turned around in 2021 when he won the American League Most Valuable Player (AL MVP) award.
Since then, Shohei has devoted so much of his time and focus to his career that his personal and romantic life remains a mystery. But does Shohei Ohtani's wife exist without the public knowing?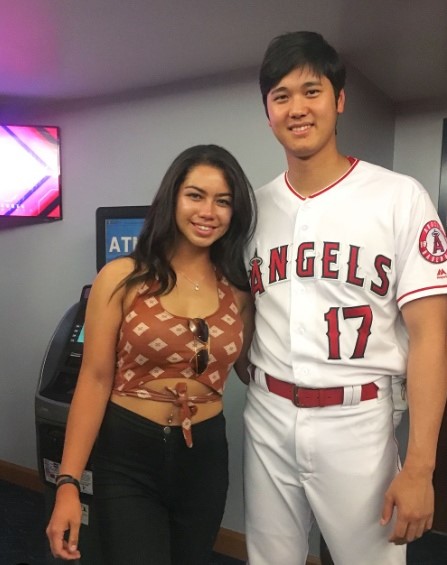 Does Shohei Ohtani's Wife Exist?
From what we know, Shohei Ohtani appears to be single. However, while it's almost certain that Shohei is single, the Angels star was once romantically linked to professional softball player Kamalani Dung, a skilled pitcher from Hawaii representing Puerto Rico.
This happened in 2018 when Kamalani shared a photo with Shohei on Instagram, and rumors of their possible relationship were widespread. But upon learning the rumors, Kamalani posted a disclaimer saying she was only a massive fan of Shohei's.
However, neither she nor Shohei confirmed or denied rumors of a potential relationship. After a while, the story died as no concrete evidence backed the speculation.
Shohei Ohtani's Wife: Who Is His Alleged Partner, Kamalani?
Kamalani Dung was born in the beautiful Hawaiian islands on March 4, 1997. Her parents, Lance Dung and Honey Rodriguez, raised her in Waianae alongside her younger brother, Lance Jr. 
Growing up, Kamalani discovered her passion for softball at the tender age of 10, embarking on a journey of self-taught pitching by avidly studying YouTube tutorials. The relentless dedication and indomitable spirit of athletes like Marcus Mariota and Ronda Rousey inspired her. 
Their unwavering commitment and champion mindset propelled Kamalani to be the best she could be. Kamalani's upbringing in Waianae shaped her into who she is today, with her rich Hawaiian, Puerto Rican, and Chinese heritage influencing her identity.
A Peek Into the Career of Shohei Ohtani's Alleged Partner
Kamalani excelled in softball throughout her high school years at Kamehameha Kapalama. She captained her team to an impressive three Division 1 Conference Championships. Following graduation, she embarked on her collegiate journey, initially playing for Fresno State during her first and second years.
She later transferred to the University of California for her junior and senior years. Kamalani's skills and passion for the game earned her a spot in the professional softball scene, where she now competes in the Athletes Unlimited League. 
Additionally, she proudly represents the Puerto Rican national softball team, showcasing her talent on an international stage. Kamalani Dung's unwavering dedication and relentless pursuit of excellence solidified her place among the top athletes in her sport, making her a shining star in the United States professional sports landscape.
What's Kamalani Dung's Net Worth?
Kamalani's net worth in 2023 is estimated to be between $300,000 and $500,000. It is primarily derived from her thriving career as a professional softball athlete and diverse entrepreneurial pursuits. In addition to her remarkable achievements in sports, Kamalani has embraced many professional roles.
She served as a real estate broker assistant, excelled as a product marketing manager, and held the esteemed position of senior account executive across different companies. Furthermore, Kamalani co-founded Media Hawaii and graced the airwaves as an on-air personality for ESPN in Honolulu.
On the other hand, Shohei Ohtani has an estimated net worth of approximately $10 million. His wealth predominantly stems from his earnings as a skilled baseball pitcher, complemented by lucrative brand endorsements. Shohei's net worth is poised to soar as he penned a noteworthy one-year, $30 million contract with the Los Angeles Angels for the 2023 season.
The Rumors About Shohei Ohtani Dating Kamalani Surfaced Again
In 2021, Kamalani Dung, already known as a big fan of Shohei's, liked a tweet by Los Angeles Angels celebrating him as ESPY's "Best MLB player." Then, the rumors took off again.
But unlike before, when Kamalani clarified that she was not dating Shohei, she posted a sarcastic tweet saying, "But the real question is, who snitched and told those magazines that I was Shohei Ohtani's girlfriend?!"
While fans are determined to play matchmaker, it should be noted that Kamalani Dung is currently in a relationship with Hawaii-based musician Dillion Pakele. This was revealed in 2022 when Kamalani celebrated Pakele's birthday, referring to him as her "lover and best friend." In 2023, she shared some cute photos on Instagram, this time referring to Pakele as her Valentine.
Shohei failing to deny being in a relationship may have inadvertently fueled rumors and speculation about his love life. Still, he has frequently stated, through his interpreter, that he isn't dating anyone, and with no credible evidence, we can't help but believe him — for now.
Fame goes hand in hand with unwarranted public scrutiny. So it's almost impossible to be popular and completely shield your personal life from the public's eye. But that hasn't deterred Pedro Pascal. He's one celebrity who is incredibly famous and keeps his personal life private.