Preston Pippen is an American celebrity famous for being one of the several children of Scottie Pippen. He is the third son of the former professional basketball player and his second with his second wife, Larsa Pippen.
Preston's father, Scottie, is a retired American professional basketball player who played for 17 seasons in the National Basketball Association (NBA). However, throughout his lengthy career, he won six NBA championships with the Chicago Bulls.
Consequently, Preston Pippen is a budding basketball phenom who has inherited his father's athletic prowess. Born into a family of talented athletes, the young prodigy and son of retired NBA superstar Scottie Pippen has honed his basketball skills since childhood.
Although Preston has gained media attention since childhood, fans of the budding NBA star are curious about his early life and background. Here's everything we know about him.
How Old Is Preston Pippen? His Early Life and Background
Preston Pippen was born to his parents, Scottie and Larsa Pippen, in Portland, Oregon, United States, on August 26, 2002. Hence, he is 21 years old. While his father is a retired basketball player, his mother is an established television personality and entrepreneur. Preston is an American of Middle Eastern and African roots, thanks to his parents. While his father is of Black American origin, his mom is of Assyrian descent.
Named after his paternal grandfather, Preston Pippen enjoys playing basketball; he grew up playing the sport with his father and siblings. In addition, he attended Sierra Canyon High School, a private college preparatory school in Los Angeles, California.
Until his graduation in May 2021, Preston Pippen was a member of the school's basketball team. The celebrity kid played beside LeBron James' son, Bronny James, and Shaquille O'Neal's sons, Shareef and Shaqir O'Neal. However, whether he would pursue a professional sports career like his father and older brother Scotty Pippen Jr. remains unknown.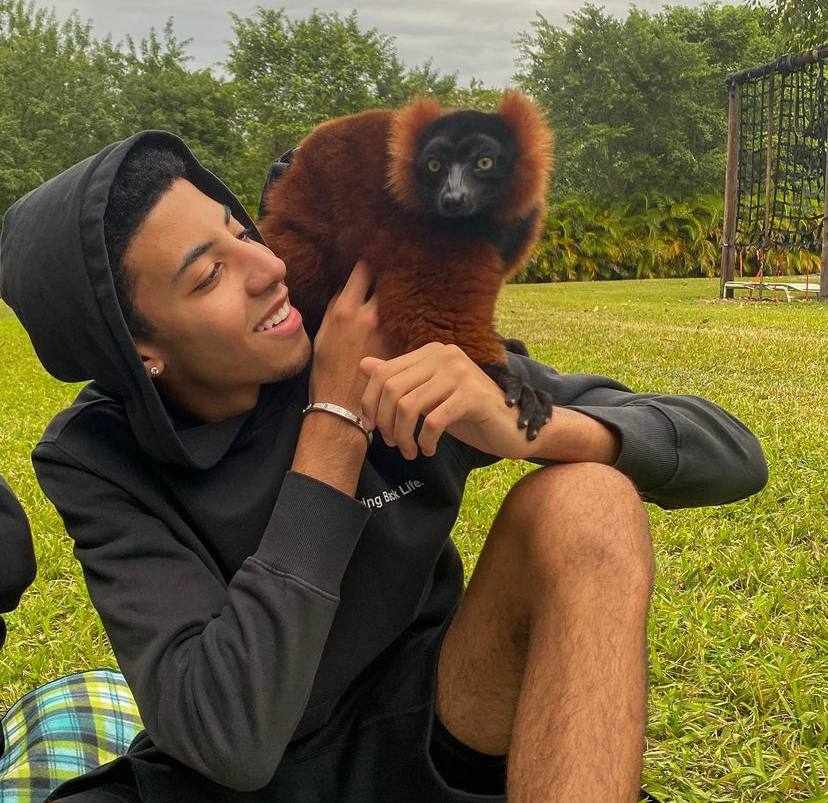 What Does Preston Pippen Do for a Living?
Despite being a celebrity child, Preston Pippen keeps a low profile. Consequently, it is hard to tell what he has been up to since he finished high school. While Preston is yet to settle for a definite career, fans of his famous father anticipate his professional basketball debut. However, if that fails to pan out, he might pursue a career in show business.
Despite being born into a family of successful basketball players, Preston Pippen has shown interest in the entertainment industry. He appeared in at least eight episodes of Bravo's reality television series, "The Real Housewives of Miami," alongside his mother. In addition, he appeared in Gary Coleman's mockumentary film, "Midgets vs. Mascots."
How Many Siblings Does Preston Pippen Have?
Preston Pippen grew up in a large family with six siblings, three from his parent's marriage and three from his father's previous relationships. 
His Half-Siblings
The oldest sibling of the large family is Antron Pippen, Scottie's first son with his first wife. Scottie and Karen McCollum tied the knot in 1988 but had Antron on December 29, 1987. Unfortunately, Antron died when he was 33, on April 19, 2021.
Next on the list of Preston Pippen's siblings is Taylor Pippen. She was born to the NBA Legend by his former girlfriend, Sonya Roby. Taylor was born on July 20, 1994. However, she was born with a twin, Tyler Pippen, who unfortunately died in the hospital days after her birth.
Then there is Sierra Pippen, Scottie Pippen's third child. Scottie had Sierra with his former fiancee, Yvette De Leone. Sierra was born on February 17, 1995, before her parents called off their engagement and went their separate ways.
His Full-Siblings
After Sierra comes Scotty Pippen Jr., Scottie Pippen's first son from his marriage to ex-wife Larsa Pippen. Scotty Pippen Jr. is Justin Pippen's first sibling from both his parents. He was born on November 10, 2000.
Following in his father's footsteps, he is an American professional basketball player for the Los Angeles Lakers of the NBA. Next is Justin Pippen, Scottie and Larsa's third child together. Justin was born on July 11, 2005. 
Although the curtains were closing on Scottie's NBA career when he and Larsa Pippen welcomed Justin, that did not stop the young star from having the sport as a significant part of his childhood. With older brothers who are also basketball players and a father considered a legend in the NBA, it's no surprise Justin Pippen is making waves in the sports circle.
Last but not least is Sophia Pippen. Sophia is Scottie and Larsa's youngest child and only daughter. She was born on December 26, 2008. Though she is the youngest of the Pippen siblings, she has a pretty impressive career. She has done some modeling and appeared on the first season of "Dancing With The Stars: Juniors in 2018."
While Preston Pippen's relationship with his half-siblings is unclear, he shares a close bond with his siblings.
Who Is Preston Pippen's Girlfriend?
Due to his cagey lifestyle, reports suggest Larsa Pippen's son is single. Since he hasn't made many public appearances since his high school graduation, many believe he is focusing on pursuing a career.