In a surprising twist, Kid Rock, the famous musician known for his eclectic style, has reversed his stance on Bud Light. This move sparked intrigue as Kid Rock was once at the forefront of initiating a boycott against Bud Light's parent company, Anheuser-Busch InBev (A.B. InBev).
His actions reportedly cost the brewing giant millions of dollars. Let's explore the musician's journey from boycotting the famous beer brand to potential reconciliation.
Where It All Began
In April 2023, Kid Rock, also known as Robert Ritchie, was involved in a Bud Light controversy. Known for his outspoken nature and conservative views, the musician spoke out against the beer company.
The controversy started when Bud Light sent a personalized case of beer to a transgender TikTok influencer, Dylan Mulvaney, for its promotional campaign. This gesture sparked outrage and backlash among customers and conservatives like Kid Rock.
Introducing the TikTok Influencer
Dylan Mulvaney, 26, shared the exciting news about teaming up with the beer company on social media during the NCAA March Madness tournament, where customers could win $15,000.
As part of the celebration for her one year of identifying as a woman, she received a special beer can with her face on it. However, this gesture didn't sit well with the singer, who was upset by the partnership.
Kid Rock Took Aim at Bud Light
In a recent social media outburst, the musician took his disapproval of Bud Light to an extreme level. In a dramatic display, he filmed himself using a semi-automatic rifle to shoot up 12-packs of the famous beer. 
Throughout the video, he strongly disapproved of the brand's actions, saying, "Forget Bud Light and forget Anheuser-Busch." His message was direct; if the beer company wanted to collaborate with a trans individual, he wouldn't support them. 
The Public Reacted
Social media buzzed with opinions and reactions from Kid Rock's unconventional and highly publicized display of disapproval. Many customers of the brand filmed themselves pouring the beer down the sink and toilet.
Some even cleared their fridges of the product, putting it in bins. Despite the backlash, the company firmly supported the TikTok star, stating that the cans were a personal gift to her.
The Brand Stood Firm Amidst Criticism
Anheuser-Busch defended appointing transgender activist and influencer Dylan Mulvaney as its Bud Light brand influencer. The company released a statement emphasizing the importance of diversity and the representation of various voices in its marketing initiatives. 
"Anheuser-Busch works with hundreds of influencers across our brands as one of many ways to authentically connect with audiences across various demographics and passion points," the brand's spokesperson told Fox News.
The Irony of the Boycott
The icon's video stirred a mix of support and criticism online. While some showed solidarity with him, others mocked his actions. They stated that his protest was unsuccessful since he had to purchase the beer cases to shoot them.
Many voiced that the effectiveness of a boycott would be to abstain from buying the product altogether. In this case, his act of buying the beer to destroy it raised questions about the sincerity of his protest.
From Boycott to Budding Reconciliation With Bud Light
Fast forward to the present, the All Summer Long artist appears to be singing a different tune. The rock star was seen holding the brand's signature beer can at a Colt Ford concert in Nashville, Tennessee.
According to TMZ, he looked relaxed, taking sips from the beer can while chatting and laughing with friends. This shocked many, given how strongly he criticized the brand.
The Internet Was Torn
The pictures roused opinions on what the musician truly meant with his protest. Many questioned whether his earlier protest was mere theatrics.
An online user commented, "First, he doesn't just vow to boycott Bud Light, he shoots a case of it on camera with an AR-15. Then, not only does he go back to immediately drinking Bud Light again, but he does it in public and gets caught. Can't make this stuff up."
The Icon Defended His Recent Decision
The rock icon shared with Fox News host Sean Hannity that he had rethought his stance on boycotts and cancel culture. "I don't want to be in the party of cancel cultures and boycotts that ultimately hurt working-class people," he declared.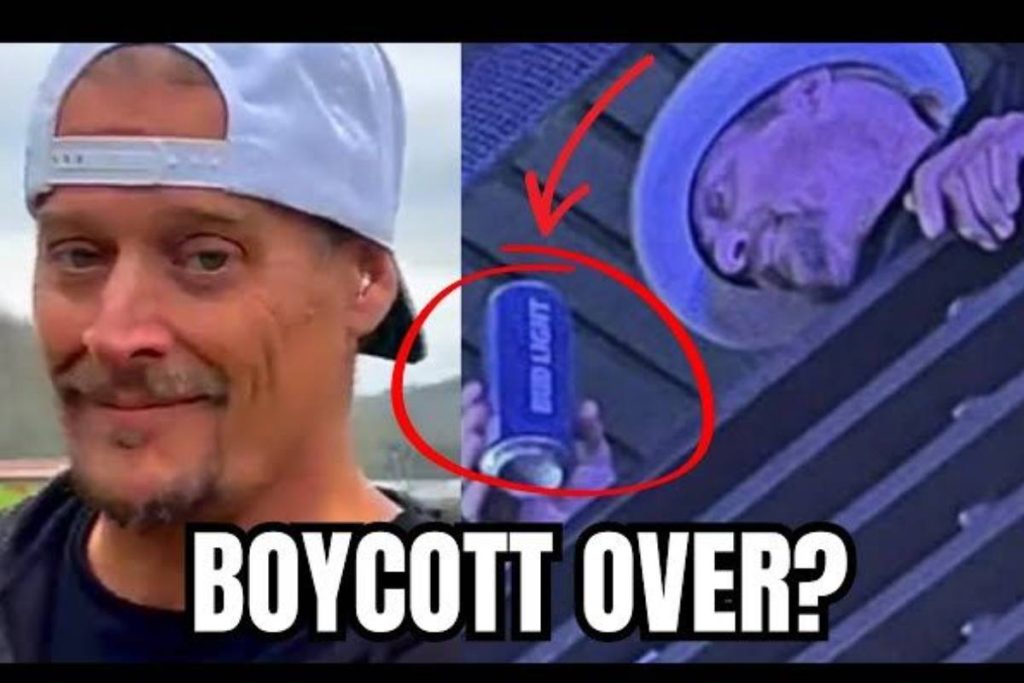 He seems to have let go. "I know people that work there, and it's not so cool to be wearing around that blue shirt anymore, going places…this is why they have a problem right now; it's like, I can let the thing go," he said.
Ready to Forgive and Forget
The conservative continued, "As a God-fearing man, as a Christian, I have to believe in forgiveness," he continued. "They made a mistake, all right. What do you want, hold their head underwater and drown them and kill people's jobs? I don't want to do that.
"But I hope—at the same time, I don't want to be their biggest cheerleader. I want them to show me something to get me back as a consumer, as a drinker."
Only Time Would Tell
The contrast between his previous actions and current behavior makes one curious about what could have influenced his mind. The icon at the forefront of opposing the brand has returned to the beer he encouraged millions to avoid.
It begs the question of whether his fans and others who boycotted AnBev would return to purchasing them.