Magic Johnson has had one woman by his side since the onset of his stardom, leaving many wondering if the NBA legend is married for real and how the lucky bride came to be.
Magic Johnson enjoys one of the longest-lasting celebrity unions, with his relationship with partner, Cookie Johnson spanning over four decades. Their relationship has encountered several obstacles since its onset, with the NBA legend's HIV diagnosis being the climax.
Having openly struggled with the highly stigmatized infection for over thirty years, many wonder how Cookie has stayed by the retired athlete's side for so long. Many have expressed doubts over the couple's union with several questioning their commitment.
While the world recognizes Cookie Johnson as the mother of his kids, is Magic Johnson married to her for real, or is their supposed union a public show?
Is Magic Johnson Married To Cookie Johnson?
Magic Johnson has been married to his wife, Cookie Johnson since 1991 and the pair have two kids together. Despite the many challenges the couple has encountered in their paths, their romance is still going strong to date.
How They Met
Although Magic Johnson is now happily married to the author and businesswoman, their love story did not come without its pitfalls.
Magic and Cookie met in 1977, during their freshman year at Michigan State College. Recounting the historic moment in a 2017 interview, Cookie explained she bumped into him at the doorway of a club she patronized with a friend.
Although he never asked her to dance, Magic ended up asking for her number just before she left. The next day, the two went home for their Christmas breaks to spend time with family.
To Cookie's surprise, the basketball star gave her a call the moment she returned to the campus, and things flowed naturally thereafter.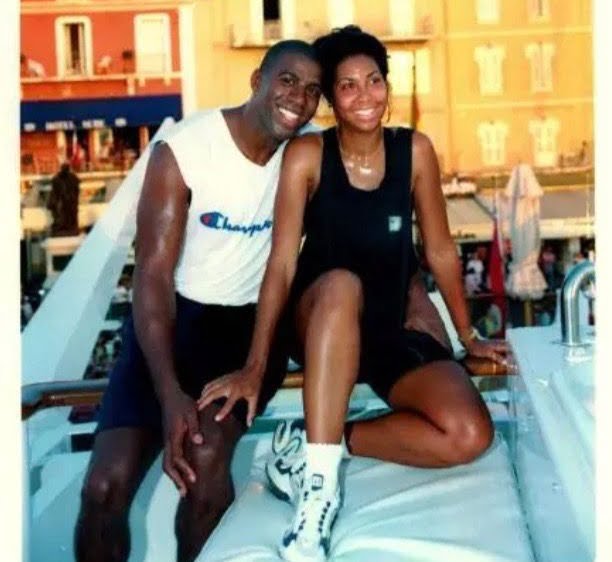 Their Romance Had Several Tipping Points
Shortly after reconnecting, Magic worked his mojo on Cookie, inviting her on a real date. They had their first date in 1978, at a steakhouse where they had a wonderful conversation.
Interestingly, their conversation flowed like they were old friends, which struck a chord in Cookie's heart. The then-college undergrad admitted she began falling in love with the legend at that moment.
About a year later, Magic Johnson's life took a complete turn. He became the first pick at the 1979 NBA draft, with the Los Angeles Lakers selecting him. Thus he quit college basketball and moved to Los Angeles, leaving Cookie behind in Michigan.
During His time away, the sports icon began dating a woman named Melissa Mitchell. He and his then-girlfriend welcomed a son, Andre, who is Magic's oldest kid.
Cookie and Magic Johnson's Marriage
After several breakups and Makeups, Magic Johnson finally realized Cookie was the one for him. Hence, he decided to make her his Queen.
They tied the knot in September 1991, in an intimate ceremony in Los Angeles. For the occasion, the happy bride donned a white gown and large tiara, while her prince charming looked breathtaking in a white tux.
The athlete-turned-entrepreneur would later admit he told his parents he'd marry Cookie just three months after their first meeting. Thankfully, he made do with his declaration and has never regretted it.
Faced With A Deal Breaker
Sadly, the couple only had three months to enjoy the honeymoon phase of their union before encountering a major setback. In November 1991, Magic received the heartbreaking diagnosis that he was HIV positive, tearing his world apart.
While he felt torn by the news, the thought of his then-pregnant wife made him more devastated. He could only hope he hadn't just ruined her life and that of his unborn child along with his.
In a 2021 sit-down with Gayle King, the legend recalled the heartbreaking moment, saying revealing his HIV status to his wife was the hardest thing he's ever had to do.
Knowing how much he loved her, Magic dreaded hurting her, which made the pressure of driving home to her on that day the greatest pressure he's ever had to face. But he did tell her, prompting her to go have the test.
When the results came out, both Cookie and the child were free from the virus to his relief. With that out of the way, he knew he needed to share the news with the world and retire from the game as per his doctor's advice.
On November 7, 1991, the basketball legend held a press conference announcing his retirement from basketball. He attributed his early retirement at 32, to his HIV diagnosis, saying he needed to dedicate his life to battling the disease.
Becoming Parents
Cookie remained by her husband's side, despite the stigma surrounding HIV and those remotely associated with the infection.
In 1992, they welcomed their first son together, Earvin "E.J" Johnson who went on to achieve fame in reality television and fashion.
Does Magic Johnson Have Other Kids With Cookie Johnson?
Three years after Earvin's birth, the couple adopted their daughter, Elisa Johnson, when she was only three years old. The youngest Johnson has been open about growing up with the Johnsons, saying she never felt exempted despite knowing they adopted her.
Magic And Cookie Johnson Hit A Rough Patch
Cookie and Magic Johnson enjoyed a happy union in the years that followed until they hit a rough patch in 2001. In her memoir, the mother of three attributed this relationship hiccup to magic's ego blowing out of proportions.
According to her, his record-breaking achievements, financial success, and his induction into the Hollywood Walk of Fame got to his head. The height of it came during an industry party, when her husband bluntly expressed disinterest in dancing with her, opting instead to dance with another group.
She called things off with him as a result and walked away. Thankfully, their separation only lasted two weeks before Magic snapped back, and fought to win over his love afresh.
Overcoming Challenges
Cookie and Magic Johnson have braved many challenges together these past decades. Some of these involve their love life while others involve internal family feuds.
The strength of their love and familial bond was tested years into their marriage, when their son, E.J Johnson came out as gay. Cookie, who discovered his preference years prior, advised her son to keep it secret from Magic.
When the boy finally opened up to his dad, the basketball legend reacted rashly. This prompted the doting wife to reprimand him for being too harsh. Thankfully, Magic took it in good fate and went on to make amends with his son.
However, E.J's sexuality would go on to become the source of another family discord. This time, it involved claims of Elisa dating her brother's ex, leading to a heated squabble that birthed its own reality show, "EJNYC."
Again, the family got through it together, putting those trying times behind them.
The Key To Their Successful Union
In a 2021 interview, Cookie Johnson shared details about her relationship with her husband. She also dished on how they have kept their spark alive for three decades and counting.
Speaking on how they've made it work, Magic Johnson's wife explained that they were "very simple" people and did "simple things."
Things like going to the movies once a week, and finding time to reconnect as a couple in a serene environment made all the difference in their marriage.
While these might seem ordinary, this secret has certainly paid off as today, they have one of the longest-lasting celebrity marriages despite their numerous challenges.
With his wife by his side, Magic Johnson has soared through life seeming invincible. He has made several breakthroughs outside the world of basketball, including his entrepreneurial ventures, numerous honorary accolades, and recognitions.
Hence, one can safely say that not only is Magic Johnson married, he also snagged himself the love of a priceless gem who complements him in all aspects.