Chris Evans has the Hollywood buzz around his status as an eligible Hollywood bachelor, but recently fans have pondered on a burning question– is Chris Evans dating Selena Gomez?
MCU's Chris Evans not only fills out his "Captain America" suit when it's time for some action, he literally fills out any outfit he rocks. Evans is quite the hunk in Hollywood, and his dating life has always been a subject of interest for fans.
The star actor has never been married, but he has not been immune to Hollywood romances as he's had his fair share of spotlight relationships. There have also been some rumors of him and Selena Gomez having a thing. However, there's been confirmation of his past celebrity relationships as well. Check out who Evans has dated in the past.
Kate Bosworth
Both teenagers, Chris Evans and Kate Bosworth met on the set of 2000's "The Newcomers" and had some chemistry on the set of the movie. They sparked dating rumors after the film, but there did not seem to be more information beyond the rumors.
However, the two seem to have an amicable relationship these days. Back in January 2021, Bosworth shared a throwback post of the pair while teasing him with his Captain America title.
Jessica Biel
The next time Chris Evans' love life made it to the news was when he and "7th Heaven" star Jessica Biel started dating in 2001. The two were in a committed relationship that lasted five years. One year before they called it quits, Biel revealed to Cosmopolitan that she and the "Don't Look Up" actor talked about marriage. She also spoke of how romantic Evans was. The pair went their separate ways in 2006.
Christina Ricci
The "Not Another American Teen Movie" actor and Christina Ricci were an item back in 2007, but they only dated for a few months. However, their relationship was long enough for them to have a romantic walk on the Met Gala Red carpet.
Dianna Agron
The short relationship between "Glee" star Dianna Agron and Evans did not get enough buzz as his other relationships, but the pair did date in the early 2010s. They hit it right off after meeting at Soho house.
Emmy Rossum
This might just have been a thing of the moment because Rossum denied having a romantic relationship with Evans. However, the pair were seen locking lips at a Hollywood bar in 2007.
Sandra Bullock
Sandra Bullock's romance with Chris Evans was something fans didn't see coming, but it happened. The unlikely pair were first romantically linked in 2014 and made light humor about the rumors. Once in an interview with Entertainment Tonight, the "Speed" actress joked:
"We've since married and it started breaking apart, so we separated. We filed for divorce, and I hope everyone can respect our privacy…" Two years later, Evans would admit that Bullock was his childhood crush. 
Minka Kelly
Before Minka Kelly and the Boston native stopped being a thing, the pair's romance was on an on-and-off basis. They were first linked in 2007, but things seemed to simmer between them until 2012, when reports showed that they rekindled their love. The "Friday Nights Light" alum and the "Avengers: End Game" star broke up again in 2013 and patched things up the following year. The last time the pair were seen together was over Labor Day week in 2015.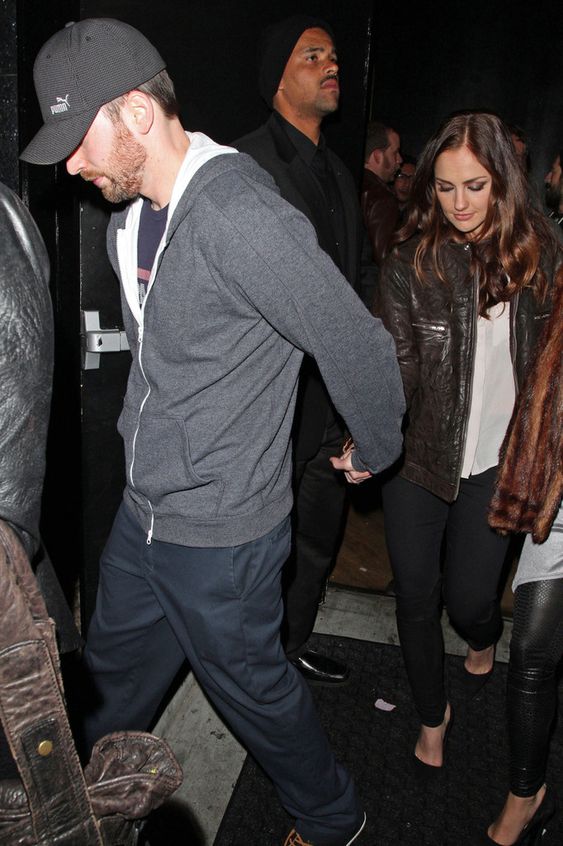 Jenny Slate
Chris Evans and Jenny Slate worked together on the set of 2016's "Gifted," and their onscreen chemistry morphed into romance and a full-fledged relationship. The two were together for a while, but things simmered down in less than a year.
However, the 40-year-old actor and Slate got back together in 2017 and ultimately called it off in 2018. Slate proved there was no bad blood between her and the star actor one month after their split when she described him as someone who had "beautiful, big, strong emotions." The "Venom" actress also chipped in that Evans loved primary colors. 
Lily James
Fans' got curious about Evans' love life once again in July 2020, after he was spotted getting cozy with "Mamma Mia! Here We Go!" actress Lily James. However, the two never addressed their romance publicly, and they remained tight-lipped.
Is Chris Evans Dating Selena Gomez?
Once speaking about the possibility of settling down and starting a family, Evans made it clear to USA Today that he had plans of eventually starting a family. However, Evans mentioned that he could not "put the cart before the horse."
This was back in 2017, and now his recent social media actions with music star Selena Gomez have got the rumor mills working. Is Chris Evans dating Selena Gomez? There's been no confirmation of this, but the actor did follow her social media, which reminded fans of 2015 when Gomez admitted to having a crush on Evans.