Caleb Kelechi Asomugha is an American celebrity child born to Hollywood stars Kerry Washington and Nnamdi Asomugha. His mom, Washington, is a famous American actress. She gained public recognition for starring as crisis management expert Olivia Pope in the ABC drama series "Scandal" (2012–2018). Her performance earned two nominations for the Primetime Emmy Award for Outstanding Lead Actress in a Drama Series. 
In addition, she got a nomination for the Golden Globe Award for Best Actress – Television Series Drama. Similarly, his father is an American actor, producer, and former football cornerback. Despite being a celebrity kid, Caleb Kelechi Asomugha's parents want him to have a normal childhood.
Here's a look into the life of the celebrity child. 
How Old Is Caleb Kelechi Asomugha?
Caleb Kelechi Asomugha was born to his parents, Washington and Nnamdi, in Los Angeles, California, United States, on October 5, 2016. Hence, he is six years old. Before Caleb's arrival, the "Scandal" actress noted that she and her husband chose not to find out the sex of their second child or share the names they had picked out. In addition, she revealed that they were hoping for a human.
Despite being a celebrity child, most details about Caleb evade the media. Although a renowned star, Washington subscribes to the idea of shielding her children from the spotlight and the troubles that come with fame. Consequently, Caleb's early interests and educational achievements remain unknown.
What Is Caleb Kelechi Asomugha's Nationality?
Caleb was born in Los Angeles, California. Hence, he is of American nationality. In addition, the adorable celebrity kid is of African-American descent and has a mixed heritage. Although his mom was born in the Bronx, New York City, Caleb is of Jamaican, English, Scottish, Native American, and Caribbean descent from his mother's side. Similarly, he is of Nigerian Igbo descent from his father's side.
Who Are Caleb's Parents?
As stated earlier, Caleb's parents are famous Hollywood celebrities. While his mom is a renowned actress, his father is a former NFL star-turned-actor and producer. Aside from his on-screen career, Nnamdi established his nonprofit, The Asomugha Foundation, in 2010. 
He founded his nonprofit "with the desire to positively impact the disadvantaged youth in the United States and the underprivileged orphans and widows in Africa," per its website. Despite their high-profile careers, Kerry Washington and Nnamdi Asomugha keep their relationship out of the spotlight.
Washington and Nnamdi exchanged vows in a private ceremony in June 2013. In the years since, the couple have only publicly stepped out together a handful of times. While it's not unusual for Caleb's parents to attend events and red-carpet premieres solo, they made a rare joint appearance at the Venice Film Festival in September 2023. 
The "Scandal" actress utilizes social media to spread awareness, promote her work, and connect with fans. However, she doesn't use it as a platform for her personal life. The BET Award-winning actress disclosed that while hiding her kids from the spotlight is not easy, she does it to shield them from media exploitation. 
In addition, she revealed that, at times, she takes pictures of them, intending to post them online. However, she sends the photos to her parents or shares them on her private Instagram account.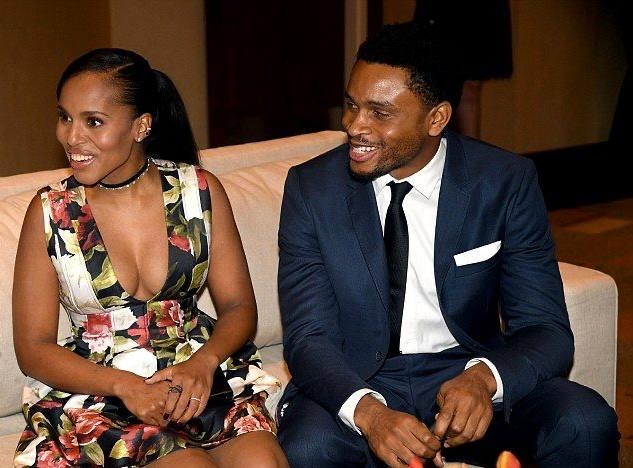 How Many Siblings Does Kerry Washington's Son Have?
Caleb Kelechi Asomugha has two older siblings, one full-sibling and one half-sibling. Washington and Nnamdi gave birth to their first child and Caleb's older sister, Isabelle Amarachi, on April 21, 2014, just a few months shy of their first wedding anniversary. In addition, the famous actress is also a stepmom to Caleb's half-sibling and Nnamdi's teenage daughter from his former relationship. 
Although the actress doesn't discuss her kids, she spoke about motherhood in an interview. Washington stated that parenting is an adventure. She added that at some point, she used to find it fun and exciting to take Isabelle to work occasionally, and everyone enjoyed her company. However, she noted that in the beginning, it wasn't easy.
The actress further explained how she spent time enlightening her children concerning the world around them. In addition, Washington added that she teaches her kids about Africa and how to honor Black lives and identity.
More so, Washington and her family love to keep fit. The actress revealed that working out and staying healthy is part of her family's culture. She added that Caleb Kelechi Asomugha and his siblings are great swimmers fascinated with water aerobics.
What Is Caleb Kelechi Asomugha's Net Worth?
Like most celebrity kids his age, Caleb Kelechi Asomugha does not have a career. Consequently, the adorable celebrity kid does not have a net worth. However, his successful mom has a net worth of $50 million from her career as an actress. Similarly, his father, Nnamdi, also has a net value of $30 million from his career as a former American football player and an actor.
Although he's yet to have a career, Caleb Kelechi Asomugha lives a luxurious life thanks to his parent's wealth. Like NBA star Kyrie Irving's first child, Azurie Elizabeth Irving, Caleb enjoys a privileged lifestyle.