Although Reese Witherspoon's husband, Jim Toth, is not as famous as his wife, he is also a well-known figure in the entertainment industry.
Oscar-winning actress and "Legally Blonde" star Reese Witherspoon has been married to her husband, Jim Toth, since 2011. Since then, the two have remained one of Hollywood's most famous couples. Here is all the information you need to know about Witherspoon's partner Jim Toth.
How Witherspoon and Toth Met
Shortly after she and her ex-boyfriend Jake Gyllenhaal broke up, Witherspoon was at a friend's party when a drunk man started hitting her. In a 2012 interview with Elle, the actress stated the guy was making a fool of himself due to how drunk he was. However, out of nowhere, Toth approached and apologetically said:
That encounter sparked a relationship between the two, and just a month later, they sparked dating rumors during a dinner date at Locanda Portofino in Santa Monica. A fellow diner revealed to PEOPLE that the pair spent nearly two hours at the famous Italian restaurant and were "very flirtatious throughout dinner."
The source also added that they seemed to be having much fun with each other, chatting, and laughing the entire time. The environment was lively and energetic, and the actress smiled throughout dinner. The duo seemed to confirm their relationship when in March 2010, during Witherspoons' birthday, the actress celebrated with her close friends, which unsurprisingly included Toth. She also introduced him to her children, and they all spent Easter weekend together.
Witherspoon and Toth's Marriage
In December of the same year they met, Witherspoon and Toth surprised fans when they announced their engagement. Meanwhile, Witherspoon was just as surprised as the fans saying in her interview with Elle she never thought she would get married again till she met Toth. However, Toth's promise to be the best partner and person in her life changed the actress' decision.
After Toth proposed to Witherspoon, the couple had to wait till March 2011 before exchanging marital vows. The wedding held at Witherspoon's estate in Ojai, California. Witherspoon stunned with a custom Monique Lhuillier blush-colored gown with a Chantilly lace corset bodice. Her daughter Ava, who served as maid of honor, also wore a matching Lhuillier frock.
In September 2012, the couple welcomed their son, Tennessee James, into their home. Also, in her interview with Elle, Witherspoon disclosed she felt lucky to have met and married Toth because a close friend once told her no man would ever accept her two children, Deacon, and Ava Phillippe, whom she shares with actor Ryan Phillippe. The actress noted:
Who Is Jim Toth?
Jim Toth was born on July 27, 1970. Toth grew up in Aliquippa in a well-to-do family, and he later relocated to Los Angeles from 1988 until 1992. Although he studied political science and government, professionally, Toth works as a talent agent, and he is the co-head of Creative Artists Agency's motion picture talent department.
While he is not an A-list celebrity like his wife, Toth represents famous industry names, including Robert Downey Jr, Matthew McConaughey, and Mary Elizabeth. His marriage to Witherspoon placed Toth into the limelight since he works mainly behind the scenes. Jim Toth is also known for his charity work and is co-chair of the Stand Up to Cancer charity.
The Couple Celebrated a Decade of Marriage
In 2021 Toth and his Oscar-winning wife marked their 10th wedding anniversary by posting a cute picture from their wedding day in 2011 on Instagram. Witherspoon, who posted the photo on her page, wrote:
They Teamed Up Professionally in the World of Soccer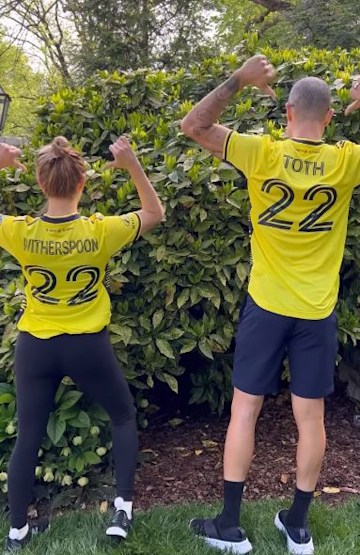 In April 2022, Toth and Witherspoon took to Instagram to announce they became part owners of their local soccer team Nashville SC. In the announcement, Witherspoon lauded the growth and development the group had experienced and expressed their delight to be joining the club's ownership.
Meanwhile, many of her 27.7 million followers rushed to her comment to praise the actress and her husband for the move. Also, the announcement came just days before Nashville SC's new stadium GEODIS Park was scheduled to open. The stadium is also the largest soccer-specific stadium in the U.S. and Canada.