Pete Davidson has an impressive dating history comprising a long list of high-profile figures. The latest in his star-studded list is reality star and beauty mogul Kim Kardashian.
From Cazzie David to Ariana Grande, Pete Davidson's list of exes prove he has a special thing for famous women. Or perhaps it's the other way around, with the women having a special pull to him.
This presumption doesn't seem all that exaggerated when considering the A-listers the "Saturday Night Live" comedian has been linked to over the years. His dating profile became more impressive when he landed himself one of the hottest women to walk the earth, Kim Kardashian.
Aside from her more-than-perfect physique and fame, the 41-year-old has an impressive financial status, with a net worth of over $1 billion, making Forbes list of the richest self-made women in the world.
It's safe to say Davidson has quite a catch on his hands, proving the 28-year-old a goal-getter. Keep reading to find out which other famous women Pete Davidson has dated over the years.
1. Carly Aquilino
"Girl Code" alum Carly Aquilino made the list of people Pete Davidson has dated when she kicked off her romance with him in 2015. The duo dated briefly, calling it quits that same year.
While their romance barely lasted, the two seemed to have left quite the impression on their circle. Following Davidson's engagement to Ariana Grande in 2018, Aquilino shared a cryptic message on Instagram from someone saying "I know I'm the 9 billionth person to text you today about this, but… I can't."
2. Cazzie David
In May 2016, Pete Davidson clinched himself the love of "Eighty-Sixed" creator Cazzie David. Their relationship seemed to be headed for a bright future, especially after the "SNL" star gushed about how lucky he was to have her during a 2017 interview. He also referred to the star as "very supportive."
However, things seemed to fall apart along the way, leading to several splits and reconciliations. After enduring their on-and-off romance for two years, the pair finally called it quits for good in early 2018.
3. Ariana Grande
The comedian and actor gave the world a shocker when he announced his relationship with "Ghostin" creator, Ariana Grande, just a day after his split from David. They went public with their romance in May 2018 and Davidson even got himself a new tattoo.
Their relationship seemed to progress at the speed of light, as even before the world got a chance to digest the news, the duo announced their engagement weeks later.
Sadly, their whirlwind romance ended in October that year, just as fast as it began. It seemed this relationship particularly affected the icon, who proceeded to cover up his Ariana Grande-inspired neck tattoo.
4. Kate Beckinsale
Davidson proved age mattered little to him when he moved on with actor Kate Beckinsale, 20 years his senior. The comedian was first linked with Beckinsale in January 2019 when they were spotted flirting at the Golden Globes after-party.
They soon confirmed the news by dishing out heated PDA at a New York Rangers game in March 2019. Many deemed his fling with the 48-year-old star a way of getting back at Grande. Hence, their relationship gained widespread publicity which Beckinsale was forced to address on occasions.
The romance lasted only a few weeks before the former couple went their separate ways in April 2019, with sources confirming their breakup. A source insinuated at the time that struggling with the media publicity surrounding their relationship contributed to their split.
5. Margaret Qualley
Four months after breaking up with Beckingsale, Pete Davidson updated his dating profile with "Maid" actress Margaret Qualley. The two began dating in August 2019, raising romance speculations when they were spotted hand-in-hand on a romantic outing in Venice, Italy.
However, their relationship was short-lived as the pair broke up in October that year. Although brief, Qualley and Davidson had the time of their lives together, with actress Andie MacDowell, the "Seberg" star's mom describing their romance as nice and beautiful.
6. Kaia Gerber
It seemed the "Wild 'N' Out" star was determined to step up his game following his brief yet sweet romance with Qualley. Hence, he kicked things off with Kaia Gerber.
The teen model, who was daughter to Hollywood legends Cindy Crawford and Rande Gerber seemed all-into her new beau at the time as she accompanied him on several romantic getaways and outings.
Her parents' reported disapproval of the relationship did not deter her from keeping their love afloat. Eventually, Gerber's parents got their wish when the relationship fizzled out in January 2020.
The icon confirmed their breakup afterward, saying the model was very young and he was going through a lot at the time. He also added that the time and place just weren't right for them. Davidson checked into rehab right after their split to deal with his mental health issues.
7. Phoebe Dynevor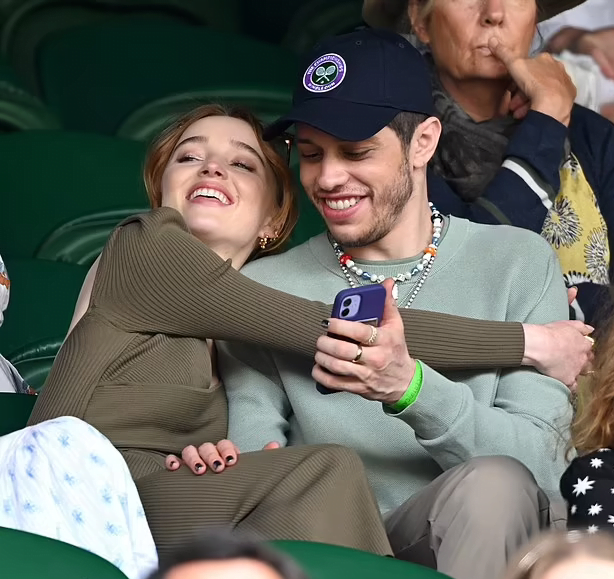 Things only became more interesting in the comedian's dating department the following year. Rumors of a budding relationship between Pete Davidson and "Bridgerton" star Phoebe Dynevor began swirling in March 2021 after he flew from New York to the UK to spend time with the actress.
Around that time, a source confirmed they had been spending time together while another noted things were not too serious between them. Notwithstanding, the twosome continued enjoying each other's company, with the actor traveling miles to spend time with Dynevor on set.
By mid-April, Davidson appeared to confirm their relationship when he responded "I'm with my celebrity crush," when an interviewer asked him to name his celebrity crush.
Pete Davidson added one more A-lister to his infamous list of exes in August 2021, when his romance with Dynevor came to an abrupt end. They spent barely five months together before their split. Sources confirmed that long-distance played a part in their breakup.
8. Kim Kardashian
In a move no one could have expected, Pete Davidson caught the heart of the newly-divorced Kim Kardashian in late 2021. Rumors of their romance swirled in October, shortly after the duo shared a kiss on stage while playing Aladdin and Jasmine on "SNL."
At the time, Pete Davidson and Kim, 40, were spotted holding hands on a roller coaster. However, sources explained the duo were just good friends hanging out because they belonged to the same circle.
They proved to be more than friends when the comedian arranged a private dinner with the reality star in Staten Island. Not long after, they enjoyed a second date night in NYC, further heightening the speculations that Pete Davidson was dating Kim.
By November that year, news outlets officially confirmed that the couple had a thing going on for real. Being the latest woman in the comedian's impressive romantic record led to speculations that the Skims CEO's entanglement with Davison was only a publicity stunt.
So far, the duo seems to be going strong despite the widespread speculations and their 12-year age gap.