Paul Cushing Child had no qualms about crawling around his wife's legs, the late celebrity chef Julia Child, while holding up what they called "idiot cards" to help her on her show. 
Paul led as the more dominant spouse for the better half of their relationship. However, in the other half, Julia was the leader in the relationship, and this only stood because Paul did not mind at all.
The pair stayed married until Paul met his demise as a nonagenarian. Here is everything we know about Paul Cushing Child and his feminist relationship with Julia Child.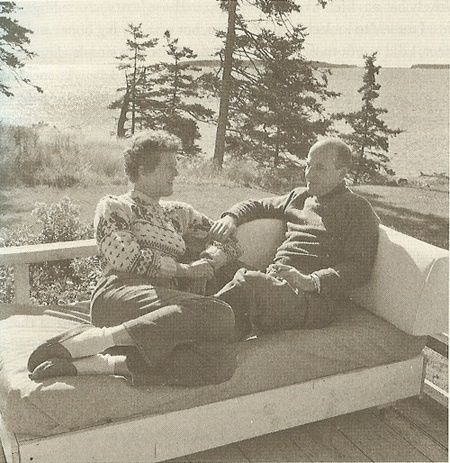 Paul Cushing Child Biography
Paul Cushing Child is best known for his relationship with Julia Child. He was born on January 15, 1902, under the astrological sign of Capricorn in Mont Claire, New Jersey. He lost his father when he and his brother, Charles, were just six months old. After the tragedy, his family moved to Boston to be closer to his mother's family. 
Paul attended the Boston Latin School and spent two years studying at Columbia before dropping out due to financial constraints. He was always an intellectual, so after dropping out, he replaced his teachers and the four walls of a classroom with books and world travel.
Both proved to be suitable educators, and he learned while having fun. He once recounted his escapades, including climbing a mast in a lightning storm and shipping out on an oil tanker. He had set out to prove himself as a man, and those adventures were essential to his growth as a formerly fearful man. 
Paul could draw and paint and attempted to live in Paris but eventually took a job at a boarding school in the Dordogne. He taught at the Shady Hill School in Cambridge and Avon Old Farms School in Connecticut as a teacher. 
Along the line, he found himself in love with the mother of one of his students. She was twenty years his senior, and he lived with her for ten years until she passed.
Her demise shook him and left him aching for a woman he could call his own. He wrote to his brother, Charles, "When am I going to meet a grown-up dame with beauty, character, sophistication, and sensibility?"
Did Paul Child Love Julia?
Paul Cushing Child's love for Julia Child was powerful, lasting from the moment he fell until he drew his last breath. The pair first met in 1944 in Kandy.
It was a rebellious period in Julia's life as she had just turned down a proposal from Harrison Chandler, son of LA Times publisher Harry Chandler, to join the Office of Strategic Services (OSS) against her wealthy family's wishes. She was first stationed in Washington, then the Office of Strategic Services. On the other hand, Paul, 42 at the time, was assigned to the "Visual Presentation Division." 
Paul Cushing Child Did Not Like Julia at First
The love they shared may have lasted decades. However, it did not happen at first sight. Paul reportedly described her as "an extremely sloppy thinker" with "an unbecoming blond mustache" who was "unable to sustain ideas for long" in letters to his brother, Charles. 
Still, he admired her "crazy sense of humor." Not too long after meeting, they became friends. They hung out often as friends, visiting local food markets and taking elephant rides.
He later revealed: "It wasn't like lightning striking the barn on fire. I just began to think, my God, this is a nice woman." 
As they fell in love, Paul opened her eyes to many things. One day, he took her to the oldest French restaurant, La Couronne, where they had what she would later call the most "important meal of her life."
After that meal, she threw her lot in with Paul, and they remained together for the following years. 
How Old Was Paul Cushing Child When He Died?
Paul Cushing passed away on May 12, 1994. He was aged 92.
Did Julia Child Have Children With Paul Cushing Child?
No, Julia Child and Paul Cushing Child had no children together.
Paul Cushing Child Was a Supportive Husband
One of the things that stood out about their relationship was how contented Paul was with supporting his wife. He did not just help out on set; he was willing to support Julia even in matters that sometimes made his career take a back seat to hers. 
It was all deliberate on his part. He knew she was going places and was very passionate about helping her get there. And she knew it. 
When Julia talked about her career as a celebrity chef, she used "we" instead of "I," an acknowledgment of his support. Julia passed on in 2004, about a decade after Paul did; however, her legacy lives on. 
Many celebrity chefs, like Gordon Ramsay, Bobby Flay, and Rachel Ray, have drawn inspiration from her recipes. Americans will always be grateful to her for being the catalyst that triggered a shift in how they see food.