Dennis Haysbert boasts of an impressive career with a portfolio of hit movies and TV shows standing as proof of his cinematic excellence.
Actor Dennis Haysbert established himself as the Hollywood good guy with appearances as the protagonist in a handful of movies and TV shows. From being dauntless baseball player Pedro Cerrano in "Major League" film trilogy to playing commander Richards in 2019's "Playing With Fire," Haysbert has made a strong statement in showbiz with his presence.
Hence, having him deviate from his good-guy persona seemed almost unthinkable, until the actor did just that in the movie, "Luv."
In a tweet from September 2022, the 58-year-old opened up about the iconic 2013 movie, where he played drug lord Mr Fish. According to him, taking on the "bad guy" character proved quite challenging as it required a change of pace from his usual "good guy" roles.
Notwithstanding, he deemed it a fun experience. On why he considered the role after years of typecasting as the protagonist, the actor revealed he became compelled to act in the movie after learning co-star Charles S. Dutton was in it.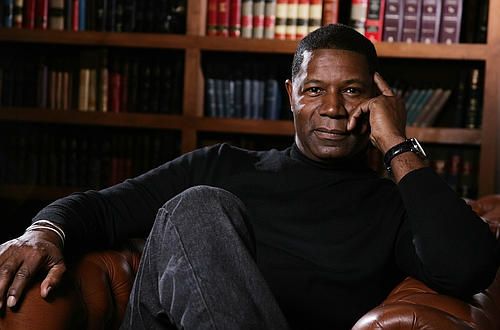 Interestingly, director Sheldon Candis always has Haysbert in mind for the role, making it even more compelling. The actor divulged at the time:
"I think he always had me in mind for Mr Fish. I figured it would be a good departure from what I normally do."
Adapting to the new project went seamlessly thanks to his real-life encounters with people like the movie's primary bad guy. Hence, he understood the character so well and rendered every emotion effortlessly.
The film ended up becoming a hit, adding to his list of iconic on-screen appearances. Curious about other projects Dennis Haysbert stood out in, here are five of his iconic movies and TV shows you can't afford to miss.
1. "The Unit"
"The Unit" is an action-drama television series based on Eric L. Haney's memoir, "Inside Delta Force: The Story of America's Elite Counterterrorist Unit."
It follows a top-secret military unit modeled after the real-life U.S army special operations unit, Delta Force. The series spotlights the daily lives of the Delta Force agents, from their daunting training and life-threatening missions to their families and personal battles they have to surmount.
Arguably one of the actor's most-recognized movies and TV shows, Dennis Haysbert played the role of Sergeant Major Jonas Blane for four seasons.
The action-packed drama brought out the best of Haysbert as he navigated life as a military persona, letting viewers experience every high and low point. Certainly a feat only a pro could pull off.
Little wonder it is still considered a popcorn movie over a decade after its release, with an 80% score on Rotten Tomatoes.
2. "24"
For movie lovers across the planet, "24" represents one of the most beloved series to ever hit the screen. What's not to love about it? The suspense-filled succession of events; The thrill of new discoveries; Action-packed moments with Jack Bower as he struggled to complete his missions knowing his family was in danger; The stern, yet compassionate POTUS President Palmer; How Haysbert delivered his scenes with mind-blowing charisma…
Overall, the 2000s series became a classic hit, scoring 87% on Rotten Tomatoes. It also won numerous awards, shooting Haysbert, who played President Palmer, to international stardom.
3. The "Sniper" Series
First released in 1993, "Sniper" is a series of action and war dramas centered around the characters of Master Gunnery Sergeant Thomas Beckett and Gunnery Sergeant Brandon Beckett. The duo worked as Force Reconnaissance scout Snipers for the United States Marine Corps.
In the movie, Dennis Haysbert plays Colonel Gabriel Stone in three installments, including 2014's "Sniper: Legacy," 2016's "Sniper: Ghost Shooter," and 2022's "Sniper: Rogue Mission."
Like in previous movies and TV shows, Dennis Haysbert did not disappoint, portraying his character with professionalism. Thanks to his roles in such movies, the icon is now widely recognized as an action flick hero.
4. "Love And Basketball"
Playing Quincy's father, Zeke McCall, Dennis Haysbert commanded attention in the 127-minutes drama, "Love & Basketball."
The film, released in 2000 followed next-door neighbors Monica Wright and Quincy McCall, who nursed dreams of becoming pro basketballers from childhood.
Along the line, love blossomed between the duo, but their determination to prove themselves the better player often got in the way, leading to endless scuffles.
Quincy, a natural at the game, gained recognition earlier on while Monica struggled to prove herself through high school and college.
With Haysbert playing the inspirational dad, who hated to see his son go pro before graduating, they butt heads occasionally. But his influence as a father figure ran deep, capturing millions of hearts and making every second worthwhile.
5. "Now And Again"
The science fiction comedy-drama series spotlighted Dennis Haysbert as the head of a top-secret government project Dr. Theodore Morris. He was tasked with engineering the perfect human body artificially but had difficulties replicating the brain.
That led him to try implanting a real human brain into his artificial creation. That way, the brain donor, who lost his life in a train accident, continued living as a government-owned secret project.
Throughout the series, Haysbert's character continued experimenting on Michael, pushing him to the limits. Overall, the movie gained widespread recognition, earning a score of 100% on Rotten Tomatoes.
While these are our top picks, Dennis Haysbert has starred in more movies and TV shows throughout his career.
These days, he is more engrossed in commercials, becoming widely renowned as the face of Allstate Insurance company. This has earned Dennis Haysbert the bulk of his impressive net worth.