Turkish people have always been dedicated to protecting their traditional heritage, which is a lasting sign of their deep respect for history. 
With a history that goes back hundreds of years, Turkey has consistently pushed for dig and repair projects. These projects, being done in ancient areas, are a powerful sign of how much the country values its history.
The Gobekli Tepe and Karahan Tepe
The Gobekli Tepe and Karahan Tepe are two of the oldest Neolithic archaeological sites. These sites have some ancient mysteries. On the grounds of Gobekli Tepe and Karahan Tepe, researchers just discovered shocking mysteries and findings that are rewriting history. 
Archeologists call these Gobekli Tepe and Karahan Tepe extraordinary site discoveries "groundbreaking" worldwide.
The Stone Hills
The complex project known as "Stone Hills" involves nine different excavation sites. Each of these sites holds some mystery. According to the Ministry of Culture and Tourism, they found the Neolithic period's biggest sculpture in the country in the middle of October. 
The sculpture is part of a captivating collection. They also found sculptures of different animals at the sites.
A Titan From the Past
One of the most fascinating and shocking discoveries is the enormous statue of a man. The sculpture stands an incredible 8 feet tall. This enormous sculpture was discovered in Karahan Tepe. 
It is set on a pedestal and has an elaborately sculpted face with a remarkably realistic expression; as a result, it is an unmatched piece of ancient art.
Guardians of Karahan Tepe
Karahan Tepe is not only the site of this gigantic sculpture, but it is also the location of a sculpture of a vulture that graces the front of the pedestal. 
These ancient stone slabs and sculptures, which skillful artisans have carved, offer a glimpse into a world that has remained veiled in mystery for a significant period of time. These artifacts date back thousands of years.
The Painted Legacy
Another discovery was a statue of an almost life-sized boar carved out of limestone found in Gobekli Tepe. This boar is a priceless work of art.
The earliest painted specimen of its kind to date is this boar. It dates back to the Neolithic era and continues up to today. As a result, it serves as a powerful symbol of human creativity.
The Boar's Surface
The surface of the boar statue reminds us of the remarkable artistry of ancient times. Looking closely, you can see faint but noticeable streaks of red, white, and black paint covering the boar's exterior.
The boar was discovered near Gobekli Tepe. Gobekli Tepe is the Turkish word for "Potbelly Hill." These colors are simple, yet they have a deep meaning. 
The Bas-Reliefs
The boar sits proudly on its base and has a complex web of mysterious bas-reliefs. Its surroundings have bas-reliefs that evoke curiosity and wonder.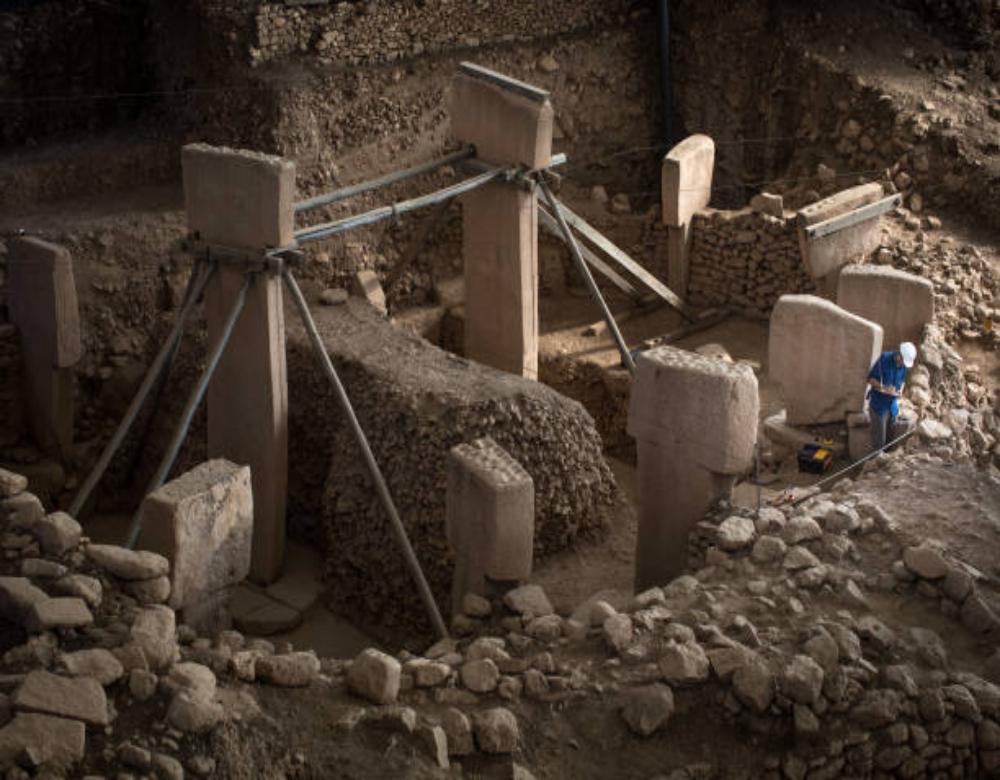 Also, you will find a H-shaped symbol, a celestial crescent, two snakes, and three human faces or masks that captivate the imagination. Each element tells a silent story of the past, inviting you to unravel their mysteries.
Göbekli Tepe's Pioneering Journey
The dig journey goes back many decades. Since the start of the dig journey at Gobekli Tepe in 1995, many fascinating things have popped up. Some of these things include beautiful pillars with animal designs and statues of people and animals.
Other things seen there are clever stone and bone tools and remains of old plants and animals. Even now, the treasure finds continue to expand.
Göbekli Tepe's Pillars
The area has some pillars. These pillars remind us of the artistic and cultural luxury of the Neolithic era. These imposing pillars have sophisticated geometric designs and captivating animal motifs engraved into them. 
Their magnificent creations show the creative ability of the people who lived at this ancient site. These discoveries offer a profound understanding of the Neolithic era's aesthetic sophistication.
Leading the World in Archaeological Exploration
Turkey has solidified its standing as the world's foremost nation in the field of archaeology. 
The country is expected to have 750 active excavations and research projects by the end of 2023, revealing the many facets of human history. This enormous undertaking shows Türkiye's steadfast commitment to protecting and presenting our common history to the globe.
A Journey Through Time
The discoveries made at Göbekli Tepe and Karahan Tepe in southeast Turkey are more than just archaeological findings; they are lights that illuminate our common past and point the path toward the future. 
They fundamentally altered how scientists see civilization's beginnings. These discoveries made as we travel through the ages bear witness to our never-ending search for information and a link to the past.